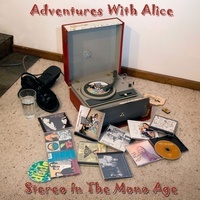 Adventures With Alice is bringing an original and diverse sound all the way from the land down under.   Stereo in the Mono Age was created in Australia, which probably makes up for the fact that this record has a unique touch to it.   AWA is bringing rock, blues, jazz, ballads and much more on this new album.   There are no musical boundaries for this group, which makes them a special force in the music biz.   Adventures With Alice is made up of five members:   Debbie Rollason–songwriter/vocals/guitars/percussion, Mark Ashurst on keys/vocals/guitars, Jester on drums/percussion/vocals, Bryce Kerr on bass and last but not least Jess Kesby playing The Wilderness horns/keys/guitars/vocals.  
I have to be honest; I wasn't completely feeling Rollason's voice quality from the start.   The sound and pitch of her chops just didn't seem to fit with the rest of the band and the overall sound.   But, as the album rolled on—I definitely changed my tune!   The flow between singer and band seemed to get better and better as the record went on.   Amazing effect and thumbs up to Rollason and the rest of AWH for accomplishing this!  
Love the fact that there are so many styles mixed into the album.   You hear flat out, jammin'/rockin' guitar lines, harmonious vocals, verse-friendly pitches, slammin' back beats and wonderful melodies that = medleys with nice touch.   Seems these five musicians were just having fun playing music together with no distractions and no rules.
I have to say tracks 10 and 11, "Winter" and "The Way it Must Be", capture Rollason singing at her finest.   She diplays a rather soft and intimate approach to her vocals while slowing down the entire tone.   The rest of the band complimented Rollason perfectly on these two songs adding a layer of synchronicity.   I believe the band chemistry between singer and band was at its highest level on these two cuts.  
For more on Adventures With Alice and their latest release, SKOPE out www.adventureswithalice.com.  
Review By Jimmy Rae
[Rating: 3/5]