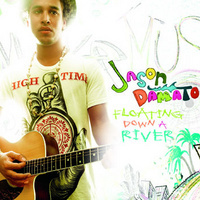 "Music is my way of living." Take a listen to the laid back life of Jason Damato with his debut EP 'Floating Down a River' – An epic indie release that hit the streets January 20, 2009 and is available on iTunes, Amie Street, Rhapsody, and Amazon MP3.
In the best traditions of Ben Harper and Jack Johnson [literally], Jason Damato is set to carry the torch through the next generation of mellow flow beach tunes. The EP name says it all: Just imagine yourself in a tropical paradise, board shorts/bikini on, drink/joint in hand…'Floating Down a River' listening to some beach tunes.  
The album brings in some veteran talent to back Damato up with the musical caliber he deserves. Tom Freund, "known for his solo work and collaborations with Ben Harper, co-produced the album", and "[the man] enlisted to provide the beat was Adam Topol, who drums for Jack Johnson". From the title track through 'Capsized', 'Life You Love', to the very last song – a live version of 'Hold On To Me'…any listener can tell this is more than just your average 'Debut EP'.   The songs flow from emotion and genuinely come off as the heart-felt art of Jason Damato.
'Floating Down a River' is a 'must' own EP for any music fan interested in getting into some top-notch talent before he becomes a household name.
Reviewed by: Gary Jacobs
[Rating: 5/5]