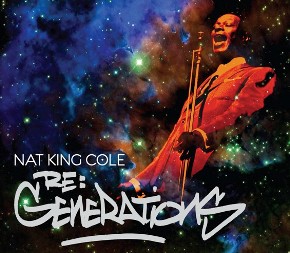 During the past several months, Nat King Cole has virtually been in the studio and on the MIC with some of the most talented Hip-hop, Latin, Reggae and Rock artists and producers of the day.
Capitol/EMI and King Cole Partners & Productions www.natkingcole.com are proud to announce the March 10, 2009 CD, digital album and vinyl release of an inspired new recording entitled RE:GENERATIONS. This landmark recording with a cosmopolitan flavor celebrates Cole's musical and cultural contributions as reinterpreted by some of this generation's most creative artists.
Lush Life – Produced by Cee-Lo:
RE:GENERATIONS aims to construct a tuneful bridge between generations, cultures and races. Evocative of a sleek and stylish metrolounge where music and the visual arts converge, RE:GENERATIONS honors Nat King Cole's continued cultural influence around the planet, 90 years after his birth.
NAT KING COLE RE:GENERATIONS Tracklisting
1. LUSH LIFE produced by CEE-LO GREEN
2. STRAIGHTEN UP AND FLY RIGHT produced by will.i.am, featuring NATALIE COLE
3. DAY IN DAY OUT produced by CUT CHEMIST
4. BRAZILIAN LOVE SONG produced by MICHAELANGELO L'ACQUA, featuring BEBEL GILBERTO
5. THE GAME OF LOVE produced by SALAAM REMI, featuring NAS
6. WALKIN' MY BABY BACK HOME produced by THE ROOTS
7. HIT THAT JIVE, JACK! produced by SOULDIGGAZ featuring IZZA KIZZA
8. CALYPSO BLUES produced by and featuring DAMIAN "Jr. Gong" MARLEY & STEPHEN MARLEY
9. MORE & MORE OF YOUR AMOR produced by BITTER:SWEET
10. EL CHOCLO produced by BRAZILIAN GIRLS
11. PICK-UP produced by JUST BLAZE
12. ANYTIME, ANYDAY, ANYWHERE produced by AMP FIDDLER
13. NATURE BOY produced by TV ON THE RADIO