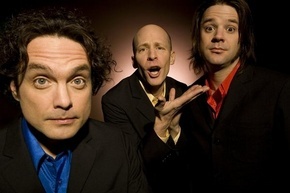 Since their inception over a decade ago, THE PRESIDENTS OF THE UNITED STATES OF AMERICA have remained one of America's best live bands, combining their indie garage sound and intelligent weirdo lyrics into an unforgettably fantastic live show.
PUSA have proved how a little garage band can have long-term success by sticking to their roots, taking care of their fans, giving away music, and keeping it simple, stupid.
With their latest album "These Are the Good Times People", released in March of 2008, PUSA delivered an uplifting and often brilliant rock & roll album.   Now they are releasing 3 new EP's, available exclusively at iTunes, that each include a song from the album, an exclusive B-Side and a new video.
Video "Rot in the Sun":
Upcoming Tour dates:
 
Fri/Jan-30           Tokyo, Japan                             Liquid Room
Sat/Jan-31           Osaka, Japan                             Club Quattro
Wed/Feb-4             Honolulu, HI                             Pipeline Café
Thu/Feb-5             Kailua-Kona, HI                       Rockstarz Nightclub
Fri/Feb-6             Lahaina, HI                               Hard Rock Cafe
Thu/Mar-19           Ghent, Belgium                         Handelsbeurs
Fri/Mar-20           Amsterdam, The Netherlands Paradiso
Sat/Mar-21           Amsterdam, The Netherlands Paradiso
Mon/Mar-23           Hamburg, Germany                     Knust
Tue/Mar-24           Aarhus, Denmark                       Train
Wed/Mar-25           Odense, Denmar                         Posten
Fri/Mar-27           Oslo, Norway                             Betong
Sat/Mar-28           Stavanger, Norway                   Folken
Sun/Mar-29           Bergen, Norway                         Garage
Wed/Apr-1             Moscow, Russia                         2 Club
Fri/Apr-3             Dublin, Ireland                       Vicar
Sat/Apr-4             London, UK                                 The Forum
Wed/Apr-15           New Haven, CT                           Toad's Place                              
Thu/Apr-16           Providence, RI                         Lupo's                                      
Fri/Apr-17           Boston, MA                                 House of Blues                
Sat/Apr-18           New York, NY                             Fillmore @ Irving Plaza  
Tue/Apr-21           Toronto, ONT                             Lee's Palace                                          
Wed/Apr-22           Syracuse, NY                             Wescott Theatre                            
Fri/Apr-24           Philadelphia, PA                     The Trocadero                        
Sat/Apr-25           Asbury Park, NJ                       Stone Pony                                    
Sun/Apr-26           Washington, DC                         9:30 Club                  
Sat/Jul-4           Watkins Glen, NY                       Glen Watkins Int'l Raceway                  
 
www.presidentsrock.com