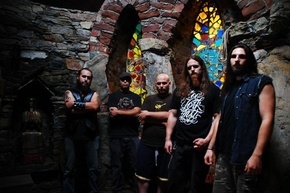 If you are really ready to rock & kick some ass then welcome to another edition of Skoped Out. This week I am pleased to have a very heavy metal band out of upstate New York. RUIN is a five person metal band and one listen to their smash hit, "Immunity" you will be hooked. RUIN will be doing an east coast tour this month starting February 11th playing gigs in FL, NC, SC, NY, and much more. We got to shoot the shit with the whole band and these guys are the real deal.
Stoli: How long has RUIN been around & how did you all come together?
FRANK:That's a loaded question and answering it in detail would be monotonous and probably really boring. RUIN has seen its fair share of Musicians. But in a nut shell, the beginnings were in 2005 when Dylan, Nick and I gathered at Dylan's son's babyshower discussing that we needed to atleast jam together. We had each pretty much grown up with eachother at some point. I've known Dylan since the 2nd grade, and Dylan has known Nick for many years. Being all multitalented musicians, we were planning on rotating instruments often.   A vocalist I had previously worked with was in by default, and down the line he had brought in a second guitarist for us. Originally, I was the Drummer of the group, but that was brought to a halt after I was involved in a work related accident crushing my leg, so while healing, Nick had exclusively became the drummer, Dylan on bass, while I pretended to play guitar along with the other guitarist. It was all just a jam band, but things started to come together. Fast forward a bit, past all the drama and bullshit, and here enters Duane. Originally the vocalist of an other band, he had come over to "fill in" for us so we could play a few more shows. He grew addicted of us and just never left. RUIN has never had a better front man. Fast forward again and we meet Greg, who at the time was the guitarist for 2 touring bands, who was searching for a more open minded project to unleash his full potential. So in a nut shell, that's how we all came together.   Originally RUIN was just a jam band, then later placed 1st in multigenre battle of the bands competitions, playing out all over NY state, performing with National acts, making contacts, forming the Ruin Nation(our fan base) etc etc… Things just get better and thicker as we go on.     Like I said, I'm leaving out   A LOT of stories and history of the growth of RUIN,   that maybe one would/could find interesting, but if you really want to   know all that you'll have to sit down with us with a few brews and not have   anywhere to be for a while.
 
Stoli: Your sound is clearly heavy metal, which I love. What is the craziest shit you have seen fans do in the mosh pit at your show?
DUANE: When we played with Kingdom of Sorrow. Frank's grandmother was at the show. There I was screaming my face off for the crazy sons of bitches swinging their fists like mad men, when on the edge of this nasty pit is Frank's grandmother throwin horns…An 80 something year old lady, whom could not have been more than 5 feet tall…was just chillin out on the edge of ridiculous violence cheerin on RUIN!!
DYLAN: Oh man, I've seen people get knocked out, people leaving covered in blood, people doing back flips, security having to drag people out. I love watching the pit, you never know what's gonna happen next.
 
Stoli: By looking at all your pictures you can tell you guys are bad ass. Were you all friends before the band or did the music bring you together?
DYLAN: A little of both, Frank, Nick, and I knew eachother before the band, Greg and Duane I met through the band.
Stoli: What life experiences do you use when you prepare to sit down and write a new song?
DUANE: I'm a huge movie buff. And as anybody should know, the score and soundtrack to a movie play a huge part in a movie's delivery. I'll listen to a track as many times as I have to until I start seeing some kind of story unraveling in my mind, be it based on a personal life experience, or just my wild drunken imagination.
GREG: We have our eye on the prize and everytime we sit down to write, we better ourselves. We have something for everyone and constantly push ourselves towards greatness.
 
Stoli: You have been on tour with national acts like Testament, Biohazard, Into Eternity, and The Red Chord. What traits did you observe in them that will make RUIN a national act as well?
NICK: Stage presence, creativity, and originality are what I focus on when observing the nationals who we've shared the stage with.
Stoli: Your band has gone through various changes within members. How do you keep the sound authentic and still keep the members motivated & excited?
FRANK: We don't work backwards that's for sure. We're always moving forward, our sound is always being developed. As long as each member inputs his ideas and we all callaborate our passions and moods, the sound that comes out will always be the sound of RUIN.
NICK: Yeah, We play for the love of music, and honostly that can take you as far as you want it to go.
DYLAN: Let me just add, as far as keeping people motivated and excited, well. I know just standing on the stage and having fun with these guys keeps me motivated!
Stoli: How many times a week do you rehearse and what is a RUIN practice session like?
FRANK: Currently, we're practicing 2 times a week. We usually practice 3 or more times a week when we can, but times are hard and we're trying to rake in more hours at work, we need every cent we can so we don't have to sweat the tour coming up in February!
Stoli: When you are rocking hard on stage what is your poison of choice?
DUANE: I normally prime the old vocal chords with a shot of Jager or the Dime famous "Black Toothed Grin", then it's cold and tasty blue mountains for the rest of the evening, and about a pack of cigarettes….
FRANK: The rest of us are pretty good on water during the set, but know how to party it up once we've stepped off the stage.
 
Stoli: What do you say to people who claim that rock is not like it used to be?
DUANE:I agree with them. I normally here it out of the mouth of some stoned hippie jammin out to the sounds of the 60's. Nowadays it seems it's about filthy disgusting horrible studio recordings ON PURPOSE and wearing pants you stole from your sister. Oh and dont' forget the "I can't see a fucking thing" swoop haircut. I could write you a novel about the problems I have with today's scene
Stoli: You have an east coast tour coming in February. How do you make sure that every show you do kicks ass day after day?
FRANK: Hard work, dedication, and performing as a unit on and off the stage. With that out of the way, the rest is all fun and good times.
Feb 9th       8:00pm     Ottobar     Baltimore, MD
Feb 10th     8:00pm     Nara Sushi     Richmond, Virginia
Feb 11th     8:00pm     The Hideaway     Johnson City, Tennessee
Feb 12th     8:00pm     Green Eggs and Jam     Boone, NC
Feb 13th     8:00pm     The Rock Shop     Fayetteville, NC
Feb 14th     8:00pm     Ground Zero     Spartonburg, SC
Feb 15th     8:00pm     The Pit     Jacksonville, FL
Feb 16th     8:00pm     The Dungen   Orlando, FL
Feb 17th     8:00pm     The Engine Room     Tallahassee, FL
Apr 11th     8:00pm     Popey's Pub       Cortlandt Manor, NY
Stoli: When someone comes out to a RUIN live show, what can they expect?
GREG: They can expect face melting solos, complex blistering fast riffs, and breakdowns that will turn any humans bones to jello ha ha, it's all for our fans.
DYLAN: BRUTALITY!!! A great show and a CRAZY pit!!! They can also expect to make 5 new friends and have a good time!!!
Stoli: How does a fan become a member of the RUIN nation?
DUANE: Why? do you want to be a member? Cause you probably won't want to be when you find out what you gotta do. Kidding! In my eyes I'll welcome any die hard mother fucker who comes out, rocks out, and just shows some genuine support…and spreads it like the plague!
Stoli: When can the fans expect a new album and what is up for 2009?
DYLAN: We're working on writing and recording right now and I think 2009 is gonna be a big year a lot of shows and who knows what else.
FRANK: Since we're selfpromoting, self producing, self sacrificing; I agree with Dylan, in that 2009 seems to look like a lot is gonna happen for us.   Atleast thats what were working hard for to make happen. Just keep checking out our Myspace page for details on what's going on with RUIN and drop us a line anytime!
Stoli: Rock on RUIN!
RUIN Contact:
Frank Williams
ruinnys@hotmail.com