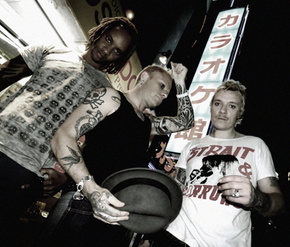 OMEN the first official single to be taken from The Prodigy's highly anticipated album Invaders Must Die is a white hot shot of pure pumped-up, punk rock Prodigy adrenaline beamed straight into the moshpit from rave central.  
Omen is everything you have ever wanted from The Prodigy condensed into three eardrum bothering minutes.
 
Enough to make one froth at the mouth, the original edit for the video for OMEN was originally recalled as the editing was so fast, coupled with the lights of the live shows that it failed the Photosensitivity test that establishes whether or not a video is safe for viewing by people susceptible to seizures caused by rapid flashing lights (only the Prodigy)!
The Prodigy – Omen
 
[youtube xMVTKOoy1uk nolink]