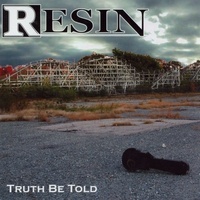 Let the truth be told loud and clear that this band FREAKIN' ROCKS!   The reason behind Resin's rock-tastic mojo is for the simple fact that they have BAND CHEMISTRY.   Four members from Massachusetts are making it all work from the group's perspective and quite honestly wonderful to hear.   Some bands have that SPECIAL SOMETHING and some bands simply don't.   Resin's special ingredient is evident on this record by way of four players and their instruments by choice.
Resin is composed of Ron Dallaire on vocals, Patrick Pachero on guitar, Dave O'Brien on bass and Steve Smith on drums.   The group brings that hard-rock, heavy-metal/Alt-rock sound in full force.   Dallaire's voice gives Resin that edgy feel that dominates many tracks on this album.   You also get tremendous guitar riffs, incredible bass lines and a drummer who bangs on those things like there's no tomorrow!   Final result is just a kick-ass-balls-to-the-wall-heavy-hittin' Rock style.   In the words of Dee Snider of Twisted Sister, "I wanna Rock, ROCK!"  
Resin doesn't have to go full steam ahead on every beat of the song, as they show on "Tomorrow" where they slow the roll, but still come hard with it on the chorus.   A very cool, low-tone-voice-effect is picked up on by Dallaire, which offers yet another musical dimension to that of Resin.   Tracks 2, 8 and 10 I am partial to because I love to just rock out from time to time and these songs definitely offer that outlet.   As MC5 sang, "Kick out the jams" years ago, I think Resin has done kicked them out right now.   And that is the truth people; I just had to tell it.  
Worth mentioning that these four men have opened up for such acts as Godsmack, Taproot and Ratt.   Also worth noting that Dallaire and Pachero are the main songwriters of the group.   And one last tidbit, Dallaire happens to have a vocal coach by the name of Mark Baxter who in his own right has trained the legendary voices of Steven Tyler, Scott Weiland and Johnny Rzeznik.   Impressive beginning for these four rockers, but I think the ending will be even more satisfying.  
For more on Resin and their latest album, Truth Be Told, SKOPE out www.resinrocks.com.  
By Jimmy Rae
 [Rating: 4/5]