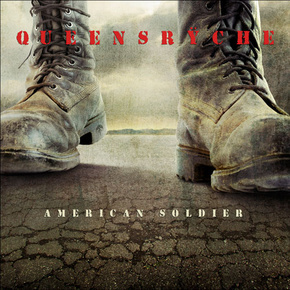 Queensrÿche envisions war through the eyes of a soldier with the band's twelfth studio release, the epic concept album AMERICAN SOLDIER.
The ambitious album encompasses a dozen songs inspired by numerous interviews with veterans conducted by Geoff Tate, the group's singer and chief songwriter, who was intent on telling their story using their words.
After speaking with soldiers who served in various conflicts — from World War II to Iraq — Tate turned their firsthand experiences from the frontlines into an unflinching musical examination of the life of a solider and the consequences of war. AMERICAN SOLDIER will be available from Atco/Rhino on March 31 for a suggested list price of $18.98 (CD) and $9.99 (digital).
AMERICAN SOLDIER
Track Listing
1. "Sliver"
2. "Unafraid"
3. "Hundred Mile Stare"
4. "At 30,000 ft."
5. "A Dead Man's Words"
6. "The Killer"
7. "Middle Of Hell"
8. "If I Were King"
9. "Man Down!"
10. "Remember Me"
11. "Home Again"
12. "The Voice"
American Soldier Tour Poster:
Queensrÿche U.S. Tour Dates
APRIL
16 Snoqualmie, WA Snoqualmie Casino
17 Snoqualmie, WA Snoqualmie Casino
18 Portland, OR Roseland Theatre
19 Chico, CA Senator Theatre
22 Anaheim, CA House Of Blues
23 San Diego, CA House Of Blues
24 Los Angeles, CA House Of Blues
25 Las Vegas, NV House Of Blues
26 Salt Lake City, UT The Depot
28 Denver, CO Paramount Theater
29 Kansas City, MO Voodoo Lounge @ Harrah's
30 Milwaukee, WI Northern Lights Theater
MAY
1 Milwaukee, WI Northern Lights Theater
3 Walker, MN Northern Lights Casino
5 Grand Rapids, MI Intersection
6 Cleveland, OH House Of Blues
7 Chicago, IL House Of Blues
8 Chicago, IL House Of Blues
9 Mt. Clemens, MI Emerald Theatre
10 Greensburg, PA Palace Theatre
12 Verona, NY Turning Stone Casino
13 Stamford, CT The Palace Theater
14 Sayerville, NJ Starland Ballroom
15 New York, NY Nokia Theatre
16 Atlantic City, NJ House Of Blues
17 N. Myrtle Beach, SC House Of Blues
19 Tampa, FL Ruth Eckerd Hall
20 Lake Buena Vista, FL House Of Blues
21 New Orleans, LA House Of Blues
22 Houston, TX House Of Blues
23 San Antonio, TX Hemisfair Park
24 Dallas, TX House Of Blues
29 Albuquerque, NM Kiva Auditoruim
30 Phoenix, AZ Dodge
JUNE
4 San Francisco, CA Fillmore
5 Kelseyville, CA Konocti Harbor