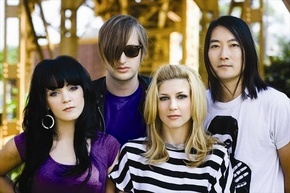 Momentum and acclaim continue to build for the February 3 release of THE VON BONDIES' third studio album Love, Hate And Then There's You (Majordomo Records, an imprint of Shout! Factory).
With a soon-to-be-announced SXSW appearance and rotation adds at various radio stations such as Q101 in Chicago, CD101 in Columbus and Sirius Alt Nation, as well as a seal of approval from tastemaker Indie 103 in Los Angeles.
"Pale Bride" Video:
[myspace 50845590 nolink]
The updated tour dates for the VON BONDIES are:
*indicates new date.
DATE                                                   CITY                                                                             VENUE
Thu           2/12                                 London, ON                                                         Call The Office
Fri               2/13                                 Toronto, ON                                                       Horseshoe Tavern
Sun           2/15                                 Montreal, QUE                                               Les Saints
Mon         2/16                                 New York, NY                                                   Mercury Lounge
Tue           2/17                                 Vienna, VA                                                             Jammin Java
Wed       2/18                                 Philadelphia, PA                                           The Khyber
Fri               2/20                                 Cleveland, OH                                                 Grog Shop
Sat             2/21                                 Ann Arbor, MI                                                     The Blind Pig
*Sun       2/22                                 Toledo, OH                                                           Mickey Finns
*Sun       3/8                                     Seattle, WA                                                         Neumos
*Mon       3/9                                     Portland, OR                                                     Doug Fir Lounge
*Tue       3/10                                 Victoria, BC                                                         Lucky Bar
*Fri           3/13                                 San Francisco, CA                                 Bottom Of The Hill
*Sat         3/14                                 West Hollywood, CA                             The Roxy
*Sun       3/15                                 Solano Beach, CA                                   Belly Up Tavern
*Sat         3/28                                 Detroit, MI                                                               St. Andrews Hall
*Mon       3/30                                 Chicago, IL                                                           Schubas
Photo by Jim Newberry