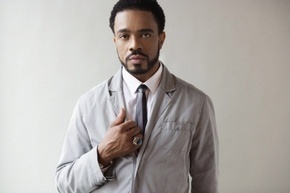 Tony Williams has spent his time playing the back for some of the hottest artists in the game. From Jay-Z, Kanye West, Common, Keyshia Cole, P Diddy, Tony has been creating classic records for years. Now, Kanye's cousin is ready to step out on his own with some help from his friends. Join me as Tony Williams gets open about his realtionship with Kanye, his upcoming solo album, the exploitation of soul music, and so much more!
Stoli: You & Kanye are cousins which is simply awesome. How close were you coming up & did you always know that you two would be in the music biz together?
Tony Williams: Our relationship was like the sibblings on "smart guy"… he was always a little genius kid and  I was that older cousin that was always taking him around showing him off.   I take him around my friends and I'd be like "ya'll watch this", and then he'd do whatever it was that he was doing at the time and just amaze everybody.   It was usually drawing or painting or something, but never anything musical.   We have a very musical family that started with my grandmother and was passed on through all her kids and grandkids, but Kanye was the one that the gift missed, so we thought anyway.   I remember when I was in my twenties and he was a young teenager, I had some of my band members at the house preparing to run out to a gig during the Christmas holidays back in Oklahoma City.   Ye was at the house and of course he would have his equipment with him if he was gonna be away from home for more than two hours.   He was at the kitchen table working on a track that he demanded that we stop and listen two before we ran off.   I can just tell you from what we heard definately didn't lead us to believe that we'd ever be working together, much less, me working for him…..
Stoli: How much of a role would you say that your love for soul music influenced Kanye's sound & style?
Tony Williams: I don't think that I influenced at all, however, recently he recently told me that from being around me and the types of music that i like has made him start to make "cooler" music.   I think that we as black people are the "essence" of soul. I really don't even listen to soul music anymore, neither does he.   We try to take in other influences in order to expand. If  I never here another soul record again I'm still soul to the core and thats what's gonna come out of me.   Its the other styles that we embrace that enable us make something really special.
Tony Williams & Kanye West "Dreaming of Your Love":
Stoli: Is there more pressure on you as a family member being signed to Kanye's GOOD Music label?
Tony Williams: Kanye definately sets a high standard for himself and a level of excellence that makes anyone around him strive for.   But thats how we was raised.   We come from civil rights leader, we was raised not to be no punks.   I always focused on making the best product possible, even before his success.   I felt then that the stuff  I was writing for my bands back then was much better quality than most of the commercial stuff. It's just that  I was kool with driving around in my car playing it and letting a few friends hear it.   You just don't think you can actually break all the way in growing up in Oklahoma back then.   So there's no pressure at all, i'm already the shit in my neighborhood.
Stoli: What kind of mood & environment must you be in to create & record a new song?
Tony Williams: I've written quite a bit on airplanes.   Sometimes my own home is the least conducive to being creative.. I'm an avid runner, and an ipod and   miles of concrete is perfect for stimulating ideas.. it's definately about finding a place or a situation that allows me to get into that zone.   Studios can be like that, thats a place where creative juices can perpetually linger in the air, its just a matter of catching the vibes.. Most importantly for me its about routine or regiment that that allows me to mentally prepare to enter "the Zone".   One of my favorite studios to work is a small basement   studio in Queens, The Edge of Madness, my guy Ed Roc's spot.   For convenience, in order to get out there i typically jump on the Long Island Railroad at Penn Station and ride for about a half hour to Queens and during the week there's a connect in Jamaica.   The ride on the train is when  I enter the zone,  I might start or even finish a hook by the time  I get there.   I have the good fortune of usually not having very harsh time restraints when I'm in sessions.   Never that always looking at the clock feeling like years ago when i was first starting out..   Like with Kanye, usually the first hour or two ( and sometimes several hours) is didicated to stuff like reading blogs or just conversation while we wait on the vibe to walk in the room and say i'm here.   we've done that for an entire day and then just got up and left cause vibe never showed up.
Stoli: Your new album, 'King Or The Fool' is ready to drop. What are you hoping to accomplish with this album for yourself & soul music as a whole?
Tony Williams: First off, lets establish that I'm not a "soul" artist. I can't help it that i'm soulFUL, however thats a box that ain't quite big enough to hold me but if "soul" music is your thing, please buy the album, I got something for ya!!   But Tony Williams is   is so many more things to so many different types of people. I guess indirectly and unconciously my goal would be to broaden what "soul" music is, its kinda like the term "black art". If a person decides go with a "black art" motif to decorate a room or house, they go out and buy paintings of black "people" that are blatantly   set in a black environment, but what if a painting is just something scenic like some flowers and it was painted by a black artist … doesn't that qualify it as black art?   But most people wouldn't hang that tag on that one.   I've never liked labels, too damn limiting and i don't let anyone limit me.   My daughter and I pick up one of her schoolmates every morning on the way to school and she happens to be white.   If  I play my music in the car and it doesn't get her attention,  I haven't done my job well.   I want to be known as a soulful guy that makes G.O.O.D. Music!!!
Stoli: On Tuesday 1/20/09, the US inaugurated Barack Obama as the President. What does that amazing event mean to you?
Tony Williams: Coming from a family like ours where people were active in the civil rights movement, its definately monumental.   But  I really stopped singing "We Shall Overcome" years ago.   It's the change he represents for the people that have been "backwards" thinkers for so long, of any color. I like that he's changing peoples mindsets.
Stoli: You have worked with the biggest names in the music biz. How did you decide who you wanted to have join you on your own album?
Tony Williams: It was really about which songs begged for a certain artist's style and not just trying to force something.     I really think there will be other opportunities, its not the last album I'll ever do.   I do think I'll shoot for a Jay Z feature on the next one.   I was recently ask who  I would choose to record with if i could pick anyone  I wanted.   I think  I answered with Mary J.   I've always admired her artistry.     Lately I've been wanting to work with Keisha Cole.   I really think we're have a lot of simialarities.   We've worked on projects on several occasions in the past.   We could do something really dope!!
Stoli: What do you feel about certain "Pop" artists that exploit soul music and are only out to commercialize & profit off the art form?
Tony Williams: I'm not quite sure I know "who" your making reference to but I'd say it's a tribute to the artform.   Everybody has a tinge of "soul" in them.   Look at Amy Winehouse, if you think her song "Some Unholy War" ain't killin almost every "soul" song by any female artist in the game, you just hatin.   You can't fake that if it ain't really in you.
Stoli: What track that you & Kanye did together do you still listen to in your own car today & why?
Tony Williams: Late Registration is definately the project that i"m most proud of to have been a part of. That's Kanye's "Song's in The Key of Life".   Like Stevie, he'll never be able to make another one like that in my mind.   It's funny that  I don't often listen to previous stuff that I've done since we never stop creating new stuff.   Usually by the time a record hits the airwaves we've already started focusing on the next thing.   "We Major" is the joint brings it home for me, like "yeah, WE ARE"!!   Okay, so since you got me started, "Drive Slow" and "Roses" were phenomonal songs, weren't they??
Stoli: You & Jay-Z created the beautiful track, "History" in honor of Barack Obama. What is a recording session with Jay-Z like and how did you two link up for that?
Tony Williams: The "History" track was just the perfect ally-oop thrown from Kanye…. so  I just dunked it.   We went to Hawaii and recorded all the tracks for Blueprint 3.   Jay wasn't even there when I laid that hook.   Actually the first time I heard the song with his verses was on the radio.   Jay came in to work on Graduation with us… he's a methodical cat in the studio, I'm really fortunate to work in such close proximity to such great artist, it only makes your game stronger.
Tony Williams Feat Jay Z "History":
Stoli: What is the most personal track on your album & why?
Tony Williams: It's called "The Crown". I composed the music and wrote the lyrics totally on my own.   I actually wrote the music during the Late Registration sessions.   I'd go tinker on the piano on my down time in the studio but it took me until just recently before the concept and words came to me.   It's a rock ballad and it's the song on the album that is most representative of who i am as an artist, its really pure.
Stoli: Would you consider yourself the king or the fool?
Tony Williams: King or the Fool is about dichotomys, everyone has the potential to be both!!!
Stoli: Thank you Tony Williams!