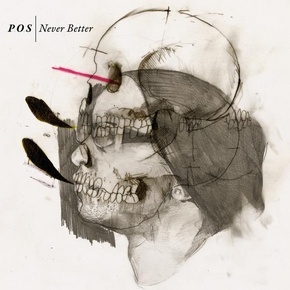 Take an in depth look into the design and functionality of the artwork and packaging for the new P.O.S record Never Better which comes out Feb. 3rd on Rhymesayers.  
The packaging for P.O.S's new album Never Better is a one of a kind four panel transparent plastic Digipak that holds 16 solid and 6 Transparent inserts. The solid inserts have artwork on the front and lyrics/credits on the back. The Transparent inserts have artwork that when placed over the various solid cards, enhance and change the look of the art underneath, hundreds of combinations are possible. Upon release, there's going to be an online component to this as well where fans will be able to create their own designs which they can print out or use digitally as their own custom cover artwork for the record.
Hands On: POS – Never Better
 
[youtube r6IrjDvVkKI nolink]  
NEVER BETTER TOUR P.O.S
with special Doomtree guests
SIMS MICTLAN + LAZERBEAK – HAND OVER FIST  
 
Feb 05 – Missoula, MT @ The Badlander
Feb 06 – Seattle, WA @ Nectar
Feb 07 – Portland, OR Satyricon
Feb 09 – San Francisco, CA @ Bottom of the Hill
Feb 10 – Los Angeles, CA @ Knitting Factory
Feb 11 – Phoenix, AZ @ Clubhouse
Feb 13 – Salt Lake City, UT @ Kilby Court
Feb 14 – Denver, CO @ Marquis
Feb 15 – Omaha, NE @ Slowdown Jr.
Feb 16 – Madison, WI @ High Noon
Feb 17 – Chicago, IL @ Reggie's
Feb 18 – Columbus, OH @ Skully's Music Diner
Feb 20 – Washington, DC @ Rock and Roll Hotel
Feb 21 – New York, NY @ Mercury Lounge
Feb 22 – Boston, MA @ Harper's Ferry
Feb 23 – Burlington, VT @ Higher Ground
Feb 25 – Cleveland, OH @ Grog Shop
Feb 26 – Champaign, IL @ Canopy
Feb 27 – Eau Claire, WI @ Stones Throw
Feb 28 – Minneapolis, MN @ First Ave.