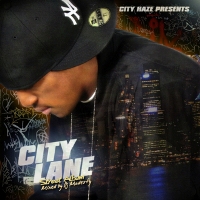 City Haze presents a hot, new album called City Lane, coming to streets near you.   City Lane is mixed by DJ Modesty who brings the heat by choppin' it up real NICE on the turntables.   The combo between Haze and Modesty is a KO in my mind.
Haze has that cool-smooth-swagger approach to his flow.   You get the feeling that this is one cool cat just by the way he raps.   The crazy part is that City Haze is still practically a teen, hittin' it large already in the hip-hop world.   Haze mixes fresh rhymes with real STREET lyrics that appear to be a little rough around the ages at times.
City Haze Presents City Lane / Mixed By Dj Modesty Free Download:
I think this kid is the total package when it comes to spillin' rhymes.   DJ modesty is also definitely keepin' it real when it comes to the art of mixing and scratching.   Just an all-around real cool hip-hop flavor is what is heard on this new record.   Holdin' it down for one of the best cities in the world, NYC, and the Mecca of rap music in my mind.  
Haze represents both Brooklyn and the Bronx and don't ask which borough he's partial too because he just won't do it man!-ha   City Haze has love for both of his NYC spots, so nothing but equal respect for the two cities.   I think that's very commendable on the part of City Haze, so in return I have a lot of respect for him just for that reason.
As far as the tracks go, "Modesty Mix" offers up a dose of mad love for Brooklyn and South Bronx.   "Dry Rain" has that crazy, hot, bumpin' club hook that can be a hit in any dance club right now!   And then the focus of this young man is something else, as can be heard through his lyrics.   On "Stare and Whisper" he raps: "Music is my wifey–Real with myself–Real with my fans".   He's just wanting to stay true to himself and keep it 100% real for his fans.   Much respect for that and honestly we could use a few more artists like this in the music world.   Too many FAKES and PHONIES, not enough just REAL, RIGHT-TO-THE-CORE-OF-THE-APPLE SHIT.  
I'll end by leaving you with another line from Haze on "For the Record": "This shit got me in my zone.   Tryin' to be the hottest in Brooklyn since HOV.   Gotta stay focused, gotta keep my zone.   For the record, I'm gonna hold it down".   He's got faith, he believes in himself and most importantly he loves rapping.   This album is already a big win for City Haze with a bright future that lies ahead.  
For more on City Haze and the blazing new tracks, SKOPE out www.myspace.com/cityhaze718.  
By Jimmy Rae
[Rating: 4/5]