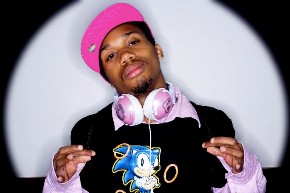 Musician. Producer. Songwriter. Lyricist. Psycho. Hippie. Genius. These words all connect through one name: Charles Hamilton.
Born in Cleveland, Ohio, Charles Hamilton was exposed to music at an early age. "My mother was an entertainment journalist for the Cleveland Call and Post, so she would take me with her to events when I was just a baby."
His mother always made sure he had an instrument around him. She put different kinds of instruments in the basement of their Cleveland home, but he naturally gravitated to the keyboard. "At first, I was just playing the rhythm of the songs I would hear," says Hamilton. "The older I got, the more proficient I got at hearing the notes." For most of his life, he was self taught, picking up the lead and bass guitar in his teenage years, as well as the drums and harmonica. He says listening to other genres of music, being exposed to different cultures and experiencing life helped mold his musical sound.
Most of his music is sample-driven. Though he catches quite a bit of heat for his sampling, he insists it is for the good of music:
"When I sample, I'm not just doing it to sound good. I'm trying to tell a story. To convey an emotion. If I sampled it, there is a reason I sampled it. I believe that music is based on moments, and that there are some moments that people may have missed back in the day. They may have even missed it a year ago. When I sample, I'm giving the artist their respect, while simultaneously creating something new."
Brooklyn Girls – Audio Stream:
Brooklyn Girls – You Tube Video: