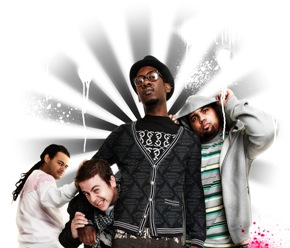 The grimey, limb-twitching music adopted by the global ghetto-funk DJ/producer team Buraka Som Sistema has been blasting out of stereos worldwide, thanks in part to the runaway success of "Sound of Kuduro."
The song, which features M.I.A., DJ Znobia — one of the foremost DJs of the genre — Saborosa, and Puto Prata, was named one of Pitchfork's Best Songs of 2008, and has wowed audiences worldwide with its mesmerizing dance-driven intensity.
Now with Buraka Som Sistema's debut long-player, Black Diamond, about to drop, escalating infamy is set to erupt into worldwide domination.
Comprised of producers Lil' John, Riot and Conductor, and MC Kalaf, but with an extended family of dancers and MCs from around the globe, Buraka Som Sistema make music that kicks and pulses and spits with a kind of urban multiculturalism that can only be found in modern globalized society, one in which beats and languages and culture blow over political borders as easily as the wind. "Yes, you are in London, but it feels like Luanda, or Lisbon. It's ugly, and embodies the beauty of the pure and the raw," says Kalaf in "New Africas Pt.1," a song that exemplifies this exchange and intersection of culture that Buraka Som Sistema have so perfectly encapsulated.
Check out the video to "Sound of Kuduro":