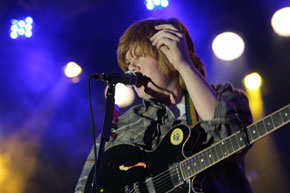 Skope's Mathilde Piard chats with folk wonder boy Brett Dennen revealing the life experiences and social views that have shaped his music.
SKOPE: Many refer to your music as eco-folk, but your music isn't really about the environment is it?
BD: I don't know where the heck people get that from. I think because they see I'm barefoot and play the acoustic guitar. People just come up with stuff. I don't think I've ever written a song that has anything about the environment. I think maybe it's because I grew up with that mentality, gardening, around vegetables… I'm like more about humanitarian and social issues. It's all human rights based, never really the environment stuff.
SKOPE: So you're moving to New York City from Santa Monica after your tour. How is your music going to be affected by your move?
BD: New York is gritty, it's got history, it's got lots of culture. I think ultimately what's happened is that I've in California all my life and it's affected the view I have of everything, it's affected the way I talk, speak and think. I got to comfortable with that and I need to make some sort of a move where I'm in a big city where I can be exposed to a lot of different people and things. It'll be good for me both emotionally and of course musically.
SKOPE: Would you be the musician you are today if you hadn't been homeschooled?
BD:I don't think I would have if was in public school and here's why. I think in general I'm kind of like a shy, bashful person. Well maybe not shy, but timid. I don't necessarily go for the things that I want really. The only reason that I'm going for the music is because I'm comfortable being an artist, I'm comfortable being a musician, and it's gotten to the point now where I don't know if there's ever anything else I could ever do other than being an artist. I think that came from me being home schooled because I spent so much time at home just being creative, […] drawing instead of watching TV or playing with kids at school, being a classroom. I didn't have a lot of friends as a kid. I think if I'd gone to public school I would have been put in a category or labeled. I think there are things that would have happened to me that would have been a result of my socialization. If I'd gone to public school, I'd still be talented but I probably would have gotten into other stuff other than art and music. I think maybe I would have had the desire to be a musician or an artist but I don't think I would have been comfortable or brave. I wouldn't have believed in myself as much as I do because I think it has everything to do with… I believe in myself so much because I'm comfortable being an artist, I gotta admit there's nothing else I want to do you know.
SKOPE: What about your experience being camp counselor in the Sierra Nevada mountains?
BD: I think that's had a huge influence on my music. Every friend I have that from there is different from any other friend I have. We all share this special place and there is nothing like it in the world. It's this group of young people in the mountains, experiencing and growing and changing and learning about this world; working with kids every day and feeling good about the world; climbing and hiking and fishing and backpacking. There's a certain magic that was put in me in a young age. It's very nostalgic and hopeful and inspirational. It's pretty much the source that I go to when I write. I think if I hadn't had that, it would be very different.
SKOPE: What were you thinking about when you wrote "Blessed"?
BD: I went to record my very first album and I wanted a   quick little intro song to open the album. So I was like, well what's that song about? Well it's gotta be something that's just, hey it's a great life, lets put everybody in the mood. And so that's where I got the idea for "Blessed". I really only wanted it to be a minute or so long, but it ended up being a whole song. I haven't been able to write a song like it since and I think it's because it's a song that maybe you can only write one of in your lifetime. It's in a moment when I think you have to throw away all your doubts and disbeliefs, let yourself be fully inspired by the possibilities, grateful and thankful for life. Some people live in that space a lot, but for me as a musician I kind of think it's better if I don't live in there a lot because I get a lot of songs out conflict and struggle and finding hope in struggle. And "Blessed" is pure optimism. I even struggle with it sometimes singing on stage because if you're not in the mood to sing that song, it sounds like crap. I'll have to wait till the end of my set to play it because it takes a good hour to really sink in and get into the right mindset. So yeah I don't know if I'll ever write a song that pure ever again, but I'm happy I wrote that. And really, I'm more happy that that's the one people hang onto and stick to, I'm totally proud of that.
SKOPE: Am I the only one who used to think you were a black woman?
BD: I used to get that all the time, especially with the first record. People always thought that I was not only a black woman, but I was like a little black woman… that was old. I think through the years I've found my true voice, and so it doesn't break out as bad. The way I used to sing sounded like someone who maybe is a little tired and doesn't have the stamina to sing a long note and sing out very loud. I don't get it so much anymore, but trust me I've gotten that so many times. But I'd rather get that than someone thinking I'm an old fat hillbilly cowboy guy or something.
SKOPE: Any Closing remarks?
BD: I started this year off with a nice good cleanse where I drink all liquid and try to be like a spiritual, sort of an emotional thoughtful as well as physical cleanse. It's going to have a lot of positive things happening in it. When we come through Florida, it's the first shows that we play together as a band so we might be shaky but I think the vibe will good. I think it's going to be a good tour, the country's going to be fun and I think it's going to be a good year.