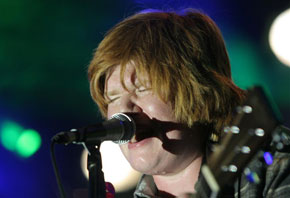 Saturday's concert at the Culture Room with Brett Dennen and Erin McCarley came down to stage presence. On one hand you had an animated and lively musician and band and on the other a much more sobering experience. Regardless of the tone of the performances both artists delivered great music that was genuine and heartfelt.
McCarley and Dennen could not look more different. She is petite and carries a guitar that looks almost too big in her hands – or maybe it was Brett Dennen's guitar that was too small. He is a giant pumpkin-head, rather like an overgrown Ron Weasley, with his guitar up to his chest and the rest is all legs. It certainly is a shocking visual if you had never seen him and only listened – he sounds like a little black woman — a striking revelation surely awaits those who haven't seen the fellow. Sound-wise, although her tunes are very diverse, Erin's music tends towards the plaintive and somber, while Brett has lyrics and an attitude so uplifting you feel like you're high on happiness. It was just pure bliss. Erin spoke to that contrast before she exited the stage, "I'm a downer for the night so now you get to be lifted up."
The positivity was most obvious of course in Brett Dennen's choice of songs. He performed uniquely arranged renditions of "All We Have" and "Blessed", my personal favorite. Both are about hope, love and happiness. The truly magical thing about music by a guy who sings about these themes is that you meet awesomely adorable people at the concert. Erin said so herself: "I was not expecting this sweet of a crowd!" Dennen attracts people of all ages since his music is ageless — it affects hearts of all ages and stages in life. Read the Skope interview here: http://skopemag.com/2009/01/24/skope-interviews-brett-dennen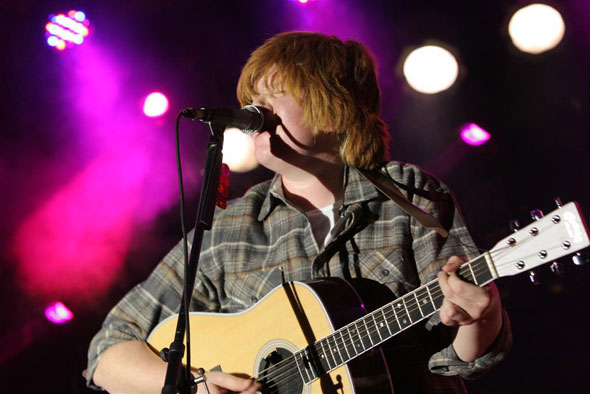 About a third of the set came from his most recent album, Hope for the Hopeless, released this Fall, and a third from each of his other two albums. He encouraged the crowd to join in for two songs: "Ain't No Reason," at which point the lights turned on, and "Follow Your Heart." "Sometimes singing from the heart means you're not signing in tune," he said. "But that's ok." He was certainly singing from his heart that night, and although that did not result in any out of tune vocals, he did sing with his entire face and body. When his face was broadcast on the big screen Culture Room has on stage, it was red, sweaty, and as pained-looking as someone getting a rectal exam. Loved it.
From the first song of the set "Darlin' Do Not Fear", Brett set the rhythm with his booty shaking and wobbling knees. In fact, had Skope decided shoot video of the concert, I would have spent the entire time filming Brett's knees and made a tribute video to their awesomeness. I can't think of a way to describe Brett's bouncing around except that it was kind of like the Charleston Bees Knees, but without the hands. He's known for playing barefoot like Jack Johnson, and he would walk away from the mic, alternatively awkwardly biting his tongue or his lips and stepping around the carpet. I'm assuming he drags along that carpet from set to set, because let's face it, stages are probably really gross to walk around barefoot onstage. One fan even yelled for — not his underwear or his babies, but to see his feet.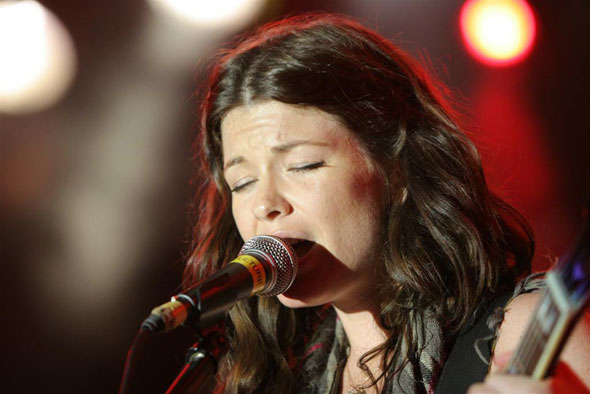 Meanwhile, although I really enjoyed Erin McCarley's set and will probably go out and buy her album tomorrow, I think she has some time to go before she reaches Dennen's level of performance. What put me off was how she would let go of her guitar mid-song to bring her hands up next to her face; it was an awkward gesture. Her hands looked like flightless birds of despair, aimless, like she didn't really know what to do with them. Her dancing and swaying looked a bit forced.   Nevertheless I loved how when she stepped up to the microphone, an unexpected deep voice boomed out, which was kind of a surprise coming out of such a tiny girl. As she becomes more comfortable on stage I expect her to exude more of a confident presence.
Of course, Brett looked awkward the whole time he was on stage, but maybe the reason I didn't mind it with him is because he's just comfortable and doesn't care.
Check more photos
Brett Dennen: http://is.gd/gjja
Erin McCarley: http://is.gd/gjkn
Set List — Song/Album
Darlin /BD
Wrong About Me /H4H
Closer To You /H4H
She's Mine /SMM
Makin Love/?? new song on next album?
Heaven /SMM
Who do you think /SMM
Follow Ur Heart /H4H
Desert Sunrise /BD
All We have /BD
Aint No Reason /SMM
When You Feel It /SMM
Crazy /H4H
Blessed /BD
BD's solos:
San Francisco /H4H
By and by /BD
World keeps turning /H4H
Albums:
BD = Brett Dennen
SMM = So Much More
H4H = Hope for the Hopeless
Words: Mathilde Piard
Photos: Shaun Flagg