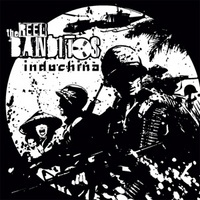 Not your usual listen of a record with The Reel Banditos and Indochina.   First off, no singing heard; just an overload of sounds revolved around one theme: Vietnam War.   A very different take on not just music, but also on the tragedies associated with the Vietnam War.   Two men, Nesto and Butch "Loco", have created an original and well-thought out album here.   Their sound can be described as just out there in left field, but definitely in a cemented zone.
What blew me away the most about Indochina is the fact that the RB's just used so many different elements of NOIZE.   The album starts up with a magical yet mysterious tone by hearing chimes and a drum roll march.   Then, at the end of the song, "Indochina", a helicopter is heard loud and clear with a short dialect followed.
The record continues on with plenty more unconventional sounds while exhibiting an unorthodox manner.   The listener gets a telephone ringing on one of the tracks along with the use of a typewriter.   Jet fighter/War planes and the sound of rain are also displayed on this record.   You also get Rock, Funk and even Techno vibes throughout while experiencing a dominant percussive role.  
I picked up on very emotional moments throughout such as: sincere guitar playing to an immensely dark overcoat layered over the melody.   Very moving at times and amazingly without the use of a voice.   All these feelings captured on a disc by two men with an extremely innovative idea.   Vietnam can never be forgotten and The Reel Banditos want to instill that thought into peoples' minds.   The fact that WAR still goes on to this day makes you realize that Indochina is not just a regular listen, but more so a needed one.  
For more on The Reel Banditos and this revolutionary idea of theirs, SKOPE out www.reelbanditos.com and www.myspace.com/reelbanditos.  
By Jimmy Rae
[Rating: 3.5/5]