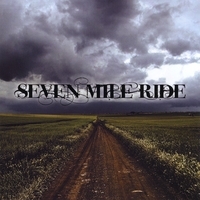 Hailing from the Northwest, Seven Mile Ride is made up of four members: Shayne Rushton on lead vocals, guitar—Randy Shemwell on lead guitar—Eric Montgomery on bass guitar and backup vocals—and Steve Humphrey on percussion and backup vocals.   On their latest record of eight tracks, I picked up right away on the all-around band connection.   Each group member is feeding off one another and the final result is one complete unity of sound.  
I love the design on the front of the CD, which is made to look like the wheel of a motorcycle.   I have to say that is such a freakin' cool idea and let's face it– just badass!–ha.   Knowing that the Northwest has plenty of open space, why not break the chopper out.   You get that vibe of just being a free spirit while riding your bike in the wind.   Become one with your motorcycle, take in all the fresh air around you and just enjoy the open roads. This theme is what I gathered just from the art on the disc and covers.  
The overall tone of the record has a very fun, rockish vibe.   There are even glimpses of blues, hard rock and southern rock all mixed into this trip known as Seven Mile Ride.   Also, the guitar playing is on point with catchy riffs throughout the record.   I simply loved what I was hearing from Shemwell–really had some killer chords and solos.  
I have to say though that honestly the lead singer's vocals didn't seem to match with the overall effect of the band.   For me, personally, the voice is a piece that didn't seem to fit the puzzle.   Guess it's hard to explain, but in the end this one dynamic just didn't seem to work for me.   But, I am just one person and that is what makes the world go around.    
For more on Seven Mile Ride and to join these four men on their new expedition, SKOPE out www.sevenmileride.com or www.myspace.com/sevenmileride.  
Review By Jimmy Rae
[Rating: 2.5/5]