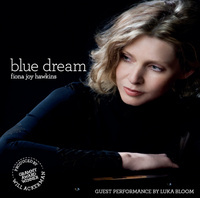 The first note I see on the front cover is that this record is produced by Grammy Award Winner, Will Ackerman.   I'm thinking right away that this recording is going to be no joke then.   And then, I open up the CD and it just has an incredibly professional and well-polished look already.
As I listened, the initial reaction I had more than lived up to its reputation.   The sound is just so complete and crisp with a wonderful job on production.   Could even be mentioned as a near masterpiece in the world of Classical/World Fusion Piano.   Maybe "Masterpiece" is a bit extreme, but I have to say that the arrangements on Blue Dream are beautifully done.
Hawkins blends piano melodies with the likes of classical, orchestral, jazz, world fusion and acoustic elements.   Hawkins intertwines all of these melodies and styles into one powerful composition.   And the fact that she played and written all the songs on piano herself makes this album even more special.
Much of the 22-Song list on Blue Dream has an overpowering, worldly vibe especially on tracks 11 and 12.   The album has a very inter-continental feel, while at the same time being very peaceful and soothing.   Only part missing was the sound of running water behind me; that would have fully-enhanced the listening experience.   Worth noting that song 20, "Moving On", has such heart-felt vocals that exhibit extreme sensitivity and emotion along with an excellent pitch.  
My absolute favorite aspect regarding this record is the fact that Hawkins didn't apply breaks after each title.   At the end of each song, the playing continued on into the next without missing a beat.   The entire album is done like this and turns out to be in sync throughout.   The constant flow matches and reads as one continuous stream of music.   No breaks, no stops, no nonsense.   So rather than each individual song having separate meanings/messages, here Blue Dream is one complete story played by Fiona Joy Hawkins.
For more on Fiona Joy and her magical sound, SKOPE out www.fionajoyhawkins.com, www.littlehartleymusic.com or www.myspace.com/fionajoyhawkins.  
By Jimmy Rae
[Rating: 4/5]