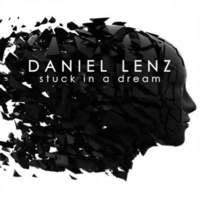 Hailing from Minneapolis, MN, Daniel Lenz brings you a super-sonic sound in Stuck in a Dream.   From the age of seven on, Lenz has always been fascinated with the creation of sound; the real guts behind it all.   Since then, he has DJ'ed at big clubs like Prince's Glam Slam and helped create the groups, Psykosonik and Hednoize under Wax Trax! Records.   Tons of tracks would come to be included in numerous TV shows, movies, commercials and even video games.   Worth noting too that Lenz also had the pleasure of working with Alice Cooper, Xzibit and Kool Keith.
The sound Daniel Lenz is bringin' on Stuck in a Dream is very techno, but also very edgy too.   Electronic music produced and put together in an extraordinary fashion on this record.   Electronica, techno music with elements of rock, heavy metal, pop and hip-hop= the overall tone of the album.   Industrializing uses of sounds by creating an atmosphere of pure digital excitement is the premise of Stuck in a Dream.   Lenz also invites the listener into a Dream World surrounded by soundscapes that will put you in a trance.
An emphatic techno, dance beat is heard on track one, "I Do it Again", while the next song follows with a metal-esqe bump and mini rap line.   "Push the Tempo" offers a hot hip-hop mix glued in with a dance craze sensation.   "This and That" has a cool/chill vibe mixed in with get-it-funky hooks.   Also being heard on this album is a techno-rock beat surrounded by the sounds of the electronic age.   Unique and highly innovative sound effects that will just blow you away here and my all-time favorite, the robotic, voice effect.  
When listening to Stuck in a Dream, I couldn't help but think of my favorite and my only techno album by Crystal Method–Vegas.   The sound and beats that Crystal Method were bringin' on that record were nothing short of amazing.   Vegas was more than just simply "TECHNO", it was revolutionizing the power of MUSIC by taking it to a whole other level.   This is what Daniel Lenz has done with his new solo album and I think listeners will truly appreciate his true work of DIGITAL/AUDIO art.
For more on Daniel Lenz and Stuck in a Dream, SKOPE out www.daniellenz.com or www.myspace.com/daniellenz.  
By Jimmy Rae
[Rating 4.5/5]