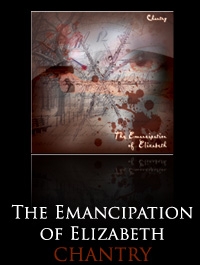 This album took me by surprise right from the beginning to end.   Track one, "Shine", starts off with a nice, hard-rockin' melody meshed with pleasant, pop-like vocals.   Then, toward the end of the song you hear a monster-like, shrieking voice that scared the shit out of me!   Reason I was so startled was because I did not expect to hear that type of sound coming out of my CD player.   Then, I was thinking that this record would lie on the verges of death-metal.   Sadly mistaken as I listened on and found out that The Emancipation of Elizabeth has much more to offer.  
Chantry is composed of one person, Alessandro Monopoli, that utilized the guitar, drums, bass and keyboard programming on the making of this record.   This Italian one-man-band does include guest bass appearances by Riccardo Crespi and Enrico Vicario.   Monopoli has even been making music for the use of video games and theater plays.   Classified as "instrumental-gothic", this Italian aristocrat from the UK goes way beyond the realm of that music classification.
GUITAR, GUITAR, GUITAR!!!!!! This is what dominated the album with a sound so intense that will just blow your mind.   The record is basically all instrumental, but honestly I would say all guitar.   Monopoli plays at speeds that are just mind boggling and really hard to grasp.   Chantry shreds through tracks like there is no tomorrow showing off his impressive guitar-playing skills.   I am just floored by the sound that comes out when Monopoli plucks away on his Jacaranda guitars.   I seriously could see his hands, fingers and guitar on fire due to the amazing speed of sound.   Smoke engulfing Chantry while this happens: SOMEONE COME QUICK, THIS GUY IS ON FIRE!!!
This guitar guru gives a whole, new meaning to the phrase: GUITAR MANIA.   Solos are ridiculously fast and simply just a gem to hear recorded.   Rocky Balboa as the Italian Stallion and now Alessandro Monopoli/Chantry coined as the "Italian Virtuoso of Guitar".
I can't overlook the fact that the drums are heavy-hittin' and bangin' hard on The Emancipation of Elizabeth.   Also, that gothic overtone is definitely heard at moments, which gives the album that dark vibe at times.   Speedy Guitar Rock at its finest!   Chantry sets a new standard here for Guitar players everywhere; the precedent is set and stamped for approval!  
For more on Chantry and this WOW!! factor, SKOPE out www.myspace.com/chantrymusic.  
By Jimmy Rae
[Rating: 4.5/5]