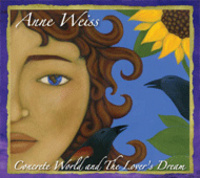 Old-time blues, acoustic folk/funk, gospel, lite rock, soul-binding, southern-sounding, easy-listening, jazzy sensations and even a hip-hop element are all the styles of music associated with Anne Weiss and her latest work, Concrete World and The Lover's Dream.   Quite an array of arrangements on this record and that is what makes Weiss such a special/unique artist.   Combine all of this together and you have yourself a full plate of THIS and THAT with plenty of SECONDS left over.   So, I advise everyone to just eat this record up!
I can't look past the fact at how poetic the album is.   Weiss' words are extremely potent and she sings each line with such conviction.   The power and soul behind her voice reminds me of a Janis Joplin while her folky, poem-style verses resemble the likes of Dylan, Simon–both Carly and Paul, James Taylor and Joan Baez just to name a few.  
Track three, "Special Delivery", surprised me the most when a beat boxing effect was included within the song.   When I think beat boxing, I think Doug E Fresh or Biz Markie; real hip-hop, beat-boxin' cats.   So, the fact that Weiss could blend this style of music into her own work and pull it off nicely is just an amazing aspect!
Concrete World and The Lover's Dream has no limitations as far as music boundaries go.   Weiss proves that it's all just MUSIC.   Music that can be listened to by ANYONE and EVERYBODY is what Anne Weiss brings to the table here.
There are terrific renditions such as: Robert Johnson's "Come On In My Kitchen", Marvin Gaye's "What's Going On" and Jackson Browne's "These Days".   Weiss brings you back to the great sound of the Delta by paying tribute to blues legend, Robert Johnson.   The classic, Delta Blues sound is prominent and the harmonica playing adds that extra element of a real blues sensation on "Come On In My Kitchen".   On Marvin Gaye's classic, Weiss goes in a different direction by making the hit song more folk-like, but packed full with plenty of soul still.   And finally on "These Days", Weiss sings the song in such a sweet, soft and somber manner that would even make Jackson Browne proud.  
To end, I wanted to include certain lyrics from Weiss herself on "Sunday River":   "I am just the country, I am just the land.   I had no intention like what they have planned.   I would live in peace, my soil is for good.   I am so misunderstood".   This is Weiss putting her poetic skills to the test and inviting listeners to really contemplate on this thought.   Ponder on that now, if you like.
For more on Anne Weiss and Concrete World and The Lover's Dream, SKOPE out www.anneweiss.com or www.myspace.com/anneweissmusic.com.  
By Jimmy Rae
[Rating: 4.5/5]