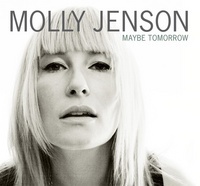 Some people like music to dance to, but I say leave the club music at the club. Stick an acoustic guitar in a girl's hand and I'm generally pretty pleased with the result. And on that level, Molly Jenson fails to disappoint. Her album, Maybe Tomorrow, straddles the fence between pop rock and folk rock, producing a cute, simple, fun result.
Maybe Tomorrow opens with Jenson's single, "Give it Time." The song is upbeat and catchy, a brilliant way to pull a listener in to the rest of the album. The song is laced with jazz-influenced piano that definitely adds a fun element to the music. More than anything, "Give it Time" shows the listener that Molly Jenson knows how to write a good hook, which she reinforces with "Thinking of You."
One of Jenson's strengths is her voice. She may not be a belter like Christina Aguilera or vintage Whitney Houston, but her voice still sounds fantastic with these songs. And, better yet, her voice sounds effortless.
Jenson shows great potential with her album. While the quality drops off in the middle, it starts and ends on a strong note. The lyrics are simple and the rhyme is often predictable, like pairing "you" with "do," but somehow I forgive her for that. The simplicity makes the songs more honest, particularly the stripped "And You Were." She transitions effortlessly from a piano rock ballad to an acoustic guitar, her voice, and a microphone to a jazzy ballad complete with a gospel-inspired choir in the background, which makes the album interesting.
In the future, I would love to see her tackle something besides a love song. But she is definitely an up-and-coming artist to keep on your radar.
By Valerie Williams
[Rating: 4/5]