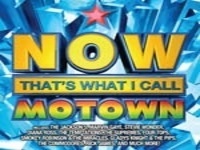 Motown is celebrating it's 50th year by the release of two collections of hits.   The "Now That's What I Call Music Series" issue contains 25 classic tunes and features the original Money by Barrett Strong (covered by many including The Beatles), the hit that Smokey gave the Temptations, My Girl, early Jackson 5 (back when Michael had his original nose), and the first Motown #1 hit Shop Around by the Miracles.   The major label artists are represented at least once, and lesser stable stars like Mary Wells, Rick James, and Edwin Starr make their appearance.   Note: The CD can also be put in your computer to unlock free Motown bonus goodies.   Heart & Soul is a Hallmark release featuring 10 of Motown stars/hits.  
In listening to these discs in succession, it brings back great memories to someone who grew up during the rise of Motown, and also to the younger generation.   The much-dreaded "Decade of Karaoke" and the recurring playing of these tunes in movie soundtracks, TV shows, and at public functions like weddings, leaves high school and college age kids having the lyrics to the songs imbedded in their long-term brains.   I believe that you could randomly call for a sing-along at a place where people assemble, and the majority would match you word for word, young and old alike.   This in itself defines modern classic music.  
Take a ride through the past, and at the same time, listen to the background studio musicians that did a stellar job in making the music what it is.   Fortunately, the Rock and Roll Hall of Fame has established a "Sideman" category to give these people their due in musical history.   For you diehard Karaoke fans, give these tunes a listen to hear how the songs sound when done by their original artists!
Review By RME
[Rating: 5/5]