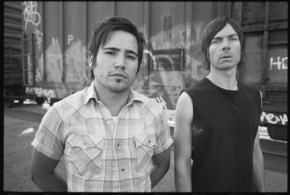 Middle Class Rut's upcoming release, a limited edition 7" vinyl single Busy Bein' Born (with "All Walks Of Life" on the B-side) will be released on February 10th via Bright Antenna.  
Currently making waves in the UK, Busy Bein' Born is a full-blown, uncompromising rock n' roll assault that is matched only by the power this duo's blistering live performance.
Since the Sacramento band's inception, Zack and Sean have made it their mission to write, produce, and record every one of their tracks themselves…a reaction and also a well-honed survival instinct after   having survived 10 years' worth of bands gone wrong and labels gone bust.   Musically, lyrically and live on stage, Middle Class Rut are nearly an amalgamation of Refused, Jane's Addiction, Rage Against The Machine, Fugazi and Bob Dylan. Middle Class Rut brings a rawness and charisma that, without fail, stop listeners in their tracks and transfixes them.  
Download the free MP3 of Busy Bein' Born here:
View the video to Busy Bein' Born here:
[youtube prwWpwDGyeM nolink]