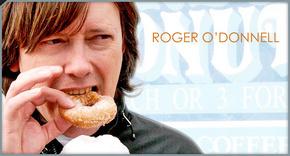 As keyboardist who's played with the Psychedelic Furs and the Thompson Twins, and as a member of the Cure, Roger O'Donnell has spent much of his career with other people's songs.
With the release of his second solo record, SONGS FROM THE SILVER BOX, Roger can finally perform his music way he wants to. This is a man who has seen and done enough to be completely comfortable in his own sound, and it shows: Songs From The Silver Box is a mature, complete record from an experienced and respected artist, and is, by all accounts, totally his own.
Roger was just in Southern California at the annual NAMM conference, showcasing his expertise on both Ableton and the Moog, and his hand-drawn video for "Tiny Pieces of You" recently premiered on Flavorwire.
Check out the video here: