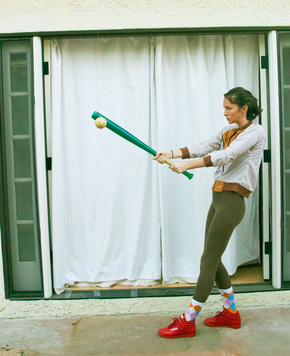 LA's Obi Best is hitting the road to share their fanciful pop with you in person.   First they'll be play several west coast dates with their friends The Bird and The Bee, for whom Obi frontwoman Alex Lilly moonlights as a backup singer.   Then they'll embark on their own national tour.
Obi Best – "It's Because of People Like You":
"Nothing Can Come Between Us" MP3:
The band's forthcoming debut full-length "Capades" is set for a February 24th release.   The album is a collection of whimsical indie pop songs with electronic flourishes.   Lilly's voice is playful and flirty, complementing her idiosyncratic songwriting and the detailed musical arrangements.   Be sure to check it out if you're a fan of Stereolab, Au Revoir Simone, or The Bird and The Bee.
Don't Miss Obi Best on Tour:
* = w/The Bird and The Bee
1/15                                               Los Angeles, CA | Hotel Cafe
1/21                                               Flagstaff, AZ   | Hotel Monte Vista
1/22                                               Phoenix, AZ   | Modified Arts                      
1/23                                               Tucson, AZ   | Plush                      
1/24                                               San Diego, CA | The Pink Elephant
2/05                                               San Diego, CA | The Casbah*
2/07                                               Santa Barbara, CA | Soho*
2/09                                               San Francisco, CA | The Independent*
2/11                                                 Portland, OR | Doug Fir*
2/12                                                 Seattle, WA | Chop Suey*
2/13                                                 Boise, ID | Neurolux
2/14                                                 Salt Lake City, Utah | Kilby Court
2/15                                                 Denver, CO | Larimer Lounge
2/17                                                 Chicago, IL | Dark Room
2/18                                                 Newport, KY/ Cincinnati, OH @ Southgate House
2/19                                                 Cleveland, OH | Beachland Ballroom
2/20                                                 Pittsburgh, PA | Brillobox
2/21                                                 Brooklyn, NY | Union Pool
2/22                                                 Philadelphia, PA | Johnny Brenda's
2/23                                                 Washington, DC | DC9
2/25                                                 Memphis, TN | Minglewood Hall
3/13                                                 Los Angeles, CA | Live on KXLU