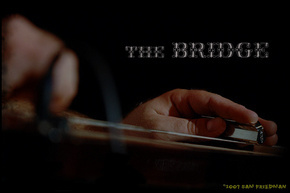 Baltimore's favorite sons, The Bridge, head out for a 30-city, coast-to-coast, U.S tour this month that stretches through the end of February.
The band begins with dates in the mid-Atlantic region before heading south for shows in Alabama, Louisiana and Texas, next making a full run up the West Coast to Washington before winding down to Colorado. The Bridge are touring behind Blind Man's Hill, their brand new album on Hyena Records.  
Free MP3 of "Let Me Off This Train" Here:
The 12-track collection hit number seven this week on Americana Radio chart, while the six piece unit is coming off a sold out New Year's Eve show with the Rebirth Brass Band in Baltimore. After playing numerous summer festivals last year, as well as dates with Mike Gordon, Little Feat and Dark Star Orchestra, The Bridge have a growing word-of-mouth buzz based on word of their incendiary live performances. But while The Bridge's sets are often laced with fierce improvisations that touch on numerous corners of American roots music, it's the songwriting of founding members Cris Jacobs and Kenny Liner, resonating with odes to honey bees, poison wine and lives born to ramble, that is the cornerstone to their antique charm.
Upcoming tour dates for The Bridge are:
January 21 / Dante's / Frostburg, MD
January 22 / Club Cafe / Pittsburgh, PA
January 23 / The V Club / Huntington, WV
January 24 / 123 Pleasant Street / Morgantown, WV
January 28 / The Lantern / Blacksburg, VA
January 29 / Boone Saloon / Boone, NC
January 30 / Smith's Olde Bar / Atlanta, GA
January 31 / Mellow Mushroom / Tuscaloosa, AL
February 4 / The Blue Nile / New Orleans, LA
February 5 / Cactus Music / Houston, TX (Free In-Store)
February 5 / The Continental / Houston, TX
February 6 / House Of Blues / Dallas, TX
February 7 / Stubb's BBQ / Austin, TX
February 10 / Winston's / San Diego, CA
February 11 / The Mint / Los Angeles, CA
February 12 / Don Quixote's / Santa Cruz, CA
February 13 / The Hopmonk Tavern / Sebastapol, CA
February 14 / Boom Boom Room / San Francisco, CA
February 15 / Sweetwater / Mill Valley, CA
February 17 / Humboldt Brews / Arcata, CA
February 18 / Indigo / Eugene, OR (w/ JFJO)
February 19 / The Goodfoot / Portland, OR
February 20 / The Wild Buffalo / Bellingham, WA
February 21 / Tost Lounge / Seattle, WA
February 22 / John's Alley / Moscow, ID
February 23 / John's Alley / Moscow, ID
February 24 / Top Hat / Missoula, MT
February 26 / Hodi's Half Note / Fort Collins, CO
February 27 / Quixote's / Denver, CO
February 28 / B-Side Lounge / Boulder, CO