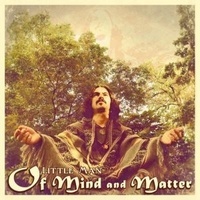 Little Man is made up of three guys from Minnesota, Chris Perricelli–singer, songwriter and guitarist, Andy Ferkihoff on bass and Sean Sander on the drums.   This band has gained much recognition in the Twin Cities state such as "Best Rock Band of 2007" and "Guitarist of the Year" by The City Pages.   Also worth noting that Little Man was nominated in 2006 for "Rock Group of the Year" by the Minnesota Music Academy.   That same year, Perricelli was nominated for "Guitarist of the Year" by the MMA.  
The group brings a timeless, classic rock vibe to the forefront with a simple yet fun- as- hell-sound.   Of Mind And Matter has that 60s, 70s groove goin' on and invites the listener to "take a trip on a magic carpet ride".   Go back in time and enjoy the groovy Peace-and-love melodies with a sip of far out trippyness.   The record appeals to both young and old though with classic, yet innovative sounds.  
Perricelli proves on the album that he is worthy of "Guitarist of the Year".   The guitar playing is on point here and quite an impressive recording to hear.   Also, the vocals are very different, but so very good with a wide array of ranges goin' on.   Perricelli's one-of-a-kind voice definitely jives well with the classic-rock feel–it just works, man.   There are loads of nice melodies added into sweet-sounding, harmonized choruses.   Again, it just works.
What better artist to mention than the Glam-Rock god himself, David Bowie.   You can here a lot of Bowie influence in Perricelli's vocal approach.   The influence is heavily evident and dooly noted.   About four or five tracks, I heard Bowie coming through at moments with the thickest effect coming on "Together On The Long Way Around".  
The last song, "Seal of Secrecy", ends on a fun note.   The Twin Cities threesome invite you to kick back, relax, have fun and just rock out with your Little Man record on.   The band wants you to "party like it's 1999" or in this case like 1960/70 something.   Fun record and cool sound overall–check 'em out!
For more on Little Man and Of Mind And Matter, SKOPE out www.littlemanmusic.net or www.myspace.com/sweetlittleman.  
By Jimmy Rae
[Rating: 4/5]