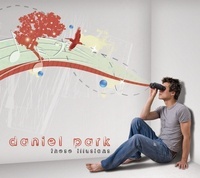 Daniel Park, formerly of the groups Live Bait and Kiss To Betray, adds a unique sound of violin to a wonderful acoustic, guitar-rock groove.   The sound in itself represents who Park is today as a person and artist; an individual trying to find his true self-identity in life.   Born in South Korea, Parks was adopted by a White, Caucasian family where he grew up in New Mexico.   Daniel Parks had to deal with trials and tribulations throughout his life and this record portrays his journey in an excellent manner.  
These Illusions is an album chalk-full of personal reflections of past relationships and experiences.   The listener gets to go on a journey, through the words of Park.   Very deep and very sincere at times, but always with pure feeling and emotion sums it up in a nutshell.   A very intimate portrait of a young man, who I think has found his niche in life.
This record resonates with an acoustic-guitar sound that is played with precision to vocals that are impeccable.   The overall sound is just a treat to hear–soothing to the ear-drums I must say.   Peaceful, easy-going and subtle sensations to very Dave Matthews-sounding at times is witnessed here.   Add in very jazzy cool, somber vibes along with a kick-out-the-jams, up-tempo beat and you have yourself one hell of a record!
"Prelude" offers no words, but still immensely, potent through its PURE sound of just plain MUSIC.   "Change In Me" offers extremely touching lyrics about a man hitting rock bottom and needing to turn his life around.   The last song on this album, "Beautiful", offers a superb description about a young lady in Park's life.   The song title definitely matches the feel as the track is simple in words, but exorbitantly meaningful in spirit.   "Am I Dreaming" is sung over and over at the end by Park, which I think nailed the overall theme and just a great way to end an album. I could definitely hear this one on the radio right now, a perfect pop hit that's simple but powerful at the same time.   Calling All Radio Stations!!
Daniel Park offers an original, personal and diverse piece of work here.   These Illusions has a sound all of its own and should impact a number of listeners.   Can't forget the supporting cast on this recording with terrific musicians:   Nikki Singleton on back-up vocals, Brett Beckett on electric guitar, Matthew Dynek on drums, Jared Collins on bass and Ryan Oxford on piano.   I feel Park, with this record, is now an artist to watch out for—The illusion is crystal clear in my mind.
For more on Daniel Park and his new album, These Illusions, SKOPE out www.danielparkmusic.com as well as www.myspace.com/danielparkmusic.com.  
By Jimmy Rae
[Rating: 5/5]