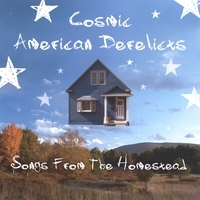 Welcome a foursome of Jersey boys bringing a country-rock/bluegrass sound to the stables on Songs From The Homestead.   Composed of new lead singer/guitarist– Scotty Lauro, Ed Rainey on guitars, banjo, mandolin, dobro, lap steel and vocals, George "The Greek" Kapitanellis on Fender bass and Sotiri Karlis on drums.   CAD brings a sound that is original and one that has no boundaries.   There are even elements of bluesy rock mixed in with a real old-man-on-the-back-porch bluegrass feel.  
The real, true country sound comes by way of Lauro's vocal approach mixed in with the background noise of instruments such as the banjo and mandolin.   Funny part though is that the title of the record has nothing to do with a country-western theme.   The name actually comes from a street in the group's hometown, Homestead Place, and is where they recorded this album.   So, a nice play with words because the overall sound definitely matches the title, but the real irony is that it has nothing to with horses and ranches.   Very creative on the part of The Cosmic American Derelicts–touché!
I have to say the main ingredient, heart and soul and driving force behind the power of this record has to be Ed Rainey on guitar.   Rainey's guitar-playing ability shined through on many songs; extremely dominant and pronounced display of sound.   Rainey provides killer guitar licks along with edgy rock riffs blended together with just sweet finger pluckin'.   I need to get Ed Rainey to help me out with Guitar Hero, so I can finally get past Easy Mode!   Rainey has that WOW factor on guitar and adds immensely to the distinct sound of CAD.
I have to say one thing though and forgive me for this people, but I just have to say it.   "Drink You Off My Mind" and "I Only Steal Things When I'm Drunk" made me think to myself:   "Oh no, not another drinker's anthem song in country music!"   The stigma of adding alcohol-based lyrics to country songs still holds true I guess.   What are you gonna do?
"Barbed Wire Bed" is a song that really has that grab-your-partner-do-si-do feel and made me think of a funny line from the movie, Son-In-Law, where Pauly Shore yells out: "Do the funky chicken!"   The record ends on a high note with "Roctopus".   The track definitely rocks and has the entire band coming together nicely in an all-out jam session.   Great sound, great finish and over six minutes long of pure musical entertainment!
For more on Cosmic American Derelicts and their new record, Songs From The Homestead, SKOPE out http://myderelicts.com and www.myspace.com/tcad69.  
By Jimmy Rae
[Rating: 4/5]