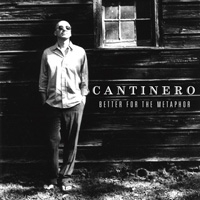 Chris Hicken aka Cantinero brings a style all of his own on this record.   The sound is crisp and clear with a folk-pop sensation. Add in an alternative spin to it all and a sophisticated delivery amounts to the pure quality of this album: Better For The Metaphor.
Cantinero has such an original sound where it just makes you stop and say, WOW!   Variety is the spice of life and Cantinero loads this one up with tons of spice and surprises.   I picked up on the use of sound effects right away with an element of intrigue.   The use of just sound is HUGE on this record with heavy emphasis being applied to the overall production.   A very professional and well-tuned recording session put together here by Cantinero and his band mates.  
Singing-wise, Hicken hit it right on with a potent delivery.   From soft pitch to high pitch to a very mellow tone and nice all-around harmony, Cantinero touches on all these vocal elements.   This British-born, but NY-based musician offers a refreshing taste of originality through his singing.   He invites you to join him on an overwhelmingly, unorthodox musical journey.  
Cantinero's lyrics are extremely deep and well-thought out at times.   On the song, "Medicated", Hicken talks about using drugs to make the pain go away.   "Insulated from life" is a line from the track that really makes sense and really makes you think.   The sense of being insulated from what we know as life by hiding behind the use of drugs is just genius.   Concept is gold and the use of wordplay is just incredible.
This is just one of those albums where you might think to yourself at first, "this is so out there and wild–just an odd vibe".   But then as you really LISTEN, you can't help but notice how DIFFERENTLY, GOOD it actually is.   I think Cantinero really has something special with this one ladies and gents.   Watch out music world, this Indie artist is coming strong!
Can't forget to mention that Cantinero adds a bunch of talented musicians to the mix along with blending wonderful melodies together by way of acoustic and Spanish guitars, piano, strings and bassoon.   HEAR it first, then LISTEN and then maybe, just maybe understand the COMPLEXITY behind Better For The Metaphor.   For more on Cantinero and his new project, Skope out www.cantinero.com along with www.myspace.com/cantineromusic.
By Jimmy Rae
[Rating: 4/5]