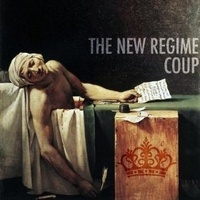 Ilan Rubin, drummer for the UK Rock/Alternative/New Wave group, Lostprophets, decided to record his debut album during Lostprophet's downtime.   The result is Coup and I must say I'm extremely impressed.   For one, Rubin is only 19 and two he is the sole performer on this record.   That's right, young Ilan Rubin brings the vocals, guitar, bass, drums, piano and keys!   Coup features not just a one-man show, but also an incredible talent.
Now, onto the overall sound and I have to say it was quite diverse.   Rock/Alternative is the "apparent" title given to this album, but man so, so much more being offered here.   I got a sense of a mysterious to even creepy vibe goin' on during parts of certain songs—very different and unique feel.   Track two, "Order Restored", has a sound that I can only describe as "Sinister Rock".   Really cool sound effects on song six, "Haunt My Mind", that starts out slow and then speeds up to a rock out jam.   "Time Erase", cut five on Coup, brings a nice piano melody mixed with on-point vocals.   The piano even offers an element of mystery through its tone along with a touch of classical.   There are even moments on the record where Pop is dispersed into the overall sound such as "This War Time".   I can't overlook the singing ability of this young man, very professional-sounding with a good voice–polished.  
One of my favorite songs on the record is "Tap Dancing in a Minefield" mainly because of its rockin' vibe, catchy guitar licks and sweet guitar solo at the end.   Has a little bit of everything I love and then some.   Ilan Rubin has proven that he is one amazing artist on this album by bringing original tunes, while also being innovative in his musical approach.   Just announced that Rubin will be the new drummer for Nine Inch Nails, so be on the lookout.   Coup is a special record with an IMMENSE sound by just ONE person, Ilan Rubin.
For more on The New Regime, Ilan Rubin and Coup, SKOPE out www.myspace.com/thenewregime and/or www.thenewregimemusic.com.  
Review By Jimmy Rae
[Rating: 5/5]