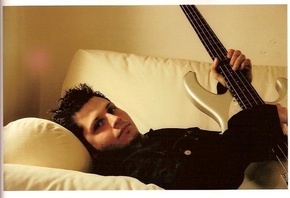 My next guest is a musician that resides in NYC but has  lived all over the world. I decided to interview Dion Roy after I was on his Myspace page & I became addicted to his track, "Know." As it turns out, Dion Roy is not only a musician but he also  owns his own PR firm & record label, AMP3. Dion spoke with  Stoli about The Middle East, NYC live venues, marketing, & much more!
Stoli: You have lived in various places from South Africa to New York. What area would you say has had the most influence on your sound today?
Dion Roy: I would say each place has a different influence. New York has been home to most of my relationships, but South Africa is where the heart is, and when I write about childhood or nostalgia I definitely draw upon that.
Stoli: These days a musician like yourself can do alot independently. Are you looking for a major deal or are you happy doing it on your own?
Dion Roy: I'm looking for whatever makes sense, and I don't really dig the idea of any institution dictating my schedule. I'd be far happier to make it on my own based on the catchiness or quality of the music, rather than the push by a major label and the strings that are attached to that.
Stoli: What happened in your life that made you realize that you wanted to do music full time?
Dion Roy: I've   known since I was 15, playing bass in a Jersey rock band, that I wanted to do music my entire life, but it wasn't until 2 years ago — around 2006 — that I realized I was capable of switching to center stage and to write all of the parts of my songs (as opposed to just doing bass).
Dion Roy: After playing bass, and writing music for other bands, I decided that I could do this myself, and that I needed to make a transition in which I was making things happen as opposed to just going with the flow.
Stoli: What method of marketing have you found to be the most effective on the indie level?
Dion Roy: Amidst all of the 2.0, Facebook, MySpace, YouTube hype, I'd say that even though they are all important, the most effective method for me has been when people have found me naturally, and I take the time to explain the music and the stories to them. It's the grassroots efforts that pay off the most, I think. These are the people that become your true fans, that become part of your "street team" and stand outside and hand out your CDs for free, and not charging you a cost-per-click (grin).
Stoli: With so much war and violence in the Middle East, how can music help to ease some of the anger & tensions?
Dion Roy: Well I think everyone is getting tired of hearing the same rhetoric over and over again, and it's so difficult to simplify any issue in a political debate, but when you use music, you can focus on a single emotion, or a small interaction, and really get an idea across, rather than your ideals. I have a lot of strong opinions and circumstances around those issues, so by just focusing on a small area of it at a time, your message is received far more receptively.
Stoli: What is one of your most personal songs and why?
Dion Roy: Won't Go On – which is just being finished up is — is about a person in my life that I see being mistreated immensely, but refuses to see the reality of the situation, as love can certainly blind someone. They are stuck where they are for so many complicated reasons, and it's a very tough situation to internalize, and so by using music I can pour my heart out, without getting involved in a situation I don't belong in.
Stoli: What is one of your favorite venues to play in NYC and why?
Dion Roy: I recently played the Red Lion, and it just has such a cool vibe. It doesn't have the grunge of the Lower East Side, but I think that's all been overdone. The sound guy there is exceptionally nice, and they treat their artists well. If they got rid of the cover bands, it would really be a nice place… but even though we aren't in NJ, everyone wants to hear "The Boss" while getting drunk.
Stoli: What do you love the most about playing live in front of your fans?
Dion Roy: That they really do appreciate the music. It's a very rewarding experience when you get your message across — something you've worked so hard to fine tune and nurture.   Even if it's just one person who "gets" it — It's enough to keep me going.
Stoli: You own your own PR firm and record label. How do you manage those businesses and your music as well?
Dion Roy: No Sleep (or stealing a few hours here and there). We are in the most competitive city in the world arguably – but when you are doing what you love, you don't really notice the time, unless you are being billed for it in the studio :)
Stoli: When you are not working on your music what do you like to do on your day off?
Dion Roy: Watch horror movies. I can't get enough of 'em, seriously. Good or bad, it's still way better than the crap that's on TV these days. Don't tell my clients that…..
Stoli: After you complete mastering a song, how do you go test that song and see if it's a hit?
Dion Roy: I play an open mic at Arctica bar, which is where I test out all of my songs and, generally, if it's a good song people will go out of their way to tell you so. I've always had a hard time picking my best songs, because whenever I'm ready to drop a song that I don't particularly like performing, I'll get someone out of the blue scream bloody murder and that I have to keep that song.  
Stoli: When can we expect your new album and who are you working with on that?
Dion Roy: I'm hoping to have my album ready by April '09, and I am working with a few great guys. Ed Marshall, who usually tours with me, plays guitar, bass, and keys – so he's all over the album and a great musician. He actually taught me to play bass, and taught me to drive when I was 16! I've also got a drummer, Paul Amorese, who will be on most of the tracks on the album. The rest will be me pounding away on the midi drums.   Brian Bauers is the engineer/producer on most of the tracks, and Brian Jackson will be mastering the album once it's ready.
Stoli: Thank you Dion Roy!