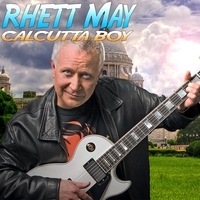 First thing I noticed right away was on the front cover of this album–its look.   I see a man with grey hair, but also with a black, leather jacket, t-shirt with flames, holding a guitar.   I have a Fonz-like jacket just like that and Rhett May proves that he can still be cool and hip even after a 30-year absence from the music world.   I think he is even stressing that through the title, Calcutta BOY not Calcutta MAN–who knows.   Times change and people grow older, but in the end you are still the same person inside.   This is a theme/message I picked up on just from taking a look at the cover art.
The 4-set EP, Calcutta Boy, is also going back to May's roots of India where he was born.   Born in Calcutta, India but currently residing in Australia; this singer/songwriter is bringing a unique flavor to the states.   Paying homage to his birthplace, the record offers elements of Carnatic and Hindustani music.   Calcutta Boy even offers the authentic sounds of the sitar and powerful voices of Ragas.   This record is a Multi-Cultural piece of work with an Extremely Unique Arrangement.  
When I hit PLAY, I noticed something very different and otherworldly about it right away.   What I heard was something I have never heard in my life before, so definitely got my attention.   The second track, "African Queen", offers the tag line: "Tangerine, my African Queen" that is so catchy I caught myself singing that verse throughout the day.   But, I couldn't get past the fact that the entire song is sang by May distorting his voice to almost a robotic feel.   This distortion effect rolls into the next song where, to me, seemed to be overemphasized while also taking away from really hearing the true essence of it all.   The distorted effect is very cool in music, but in moderation and I think that is my main issue here.
I understand if that is the style and sound associated with the culture of India, in which May nailed it then.   But, for myself I'm just not used to hearing music like that and I guess my ears just weren't accepting it this time around.   Maybe, I just have to train my ears better to really hear the Hindustani and Carnatic styles and understand them.   A few more listens and I could get it, but for right now I'm just not feelin' it.  
I have to say I did love the Caribbean/Calypso vibe of the last song, "Mirror Mirror".   The track has a perfect blend of Island flavor while still staying true to the roots of India.   The distortion effect is evident here, but not as pronounced as in #2 and #3 on the EP.   So, this style did work for me and proves that maybe not every song needs constant distortion for it to still be true to its sound.  
For more on this unique artist and his latest EP, SKOPE out www.rhettmay.com and www.myspace.com/rhettmaymusic.  
By Jimmy Rae
[Rating: 2.5/5]