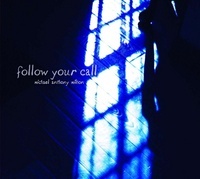 During crisis and turmoil in which our country is experiencing right now, it's nice to have a CD to put on where you feel really good at the end.   You feel warm where it counts, inside, because Milton's lyrics go straight to the heart.   He preaches nothing but the holy words of God and I think a lot of people really need to hear this powerful record.  
The beauty of Follow Your Call is that it is just that!   Milton is preaching to everyone and anyone, no matter what race or religion, to follow his or her own individual paths in life. This record is meant to lift up the spirits and spread peace to all around the globe and Milton invites YOU to follow your calling.   No matter what you believe or what your calling is in life, I think there can be an answer for everyone on this one.
Michael Anthony Milton is not just a singer/songwriter, but also a renowned pastor and author along with being a professor and seminary president at Reformed Theological Seminary in Charlotte, North Carolina.   A jack of all trades, but a man with one message and one mission: For there to be peace and love on God's green Earth.   Milton's sincere conviction for the lord, Jesus Christ, is heard loud and clear on Follow Your Call.  
The sound on the album is of an acoustic nature with a pop-folk sensation–very easy-listening.   There are also elements of country-rock and bluegrass put in the mix.   The overall sound is very soothing and blends well with Milton's vocals.   The TRUTH behind Follow Your Call is definitely heard in unison, both harmonically and melodically.   Along with singing, Milton also adds various versions of acoustic guitar and piano on the album.   Other noteworthy players contribute: backing vocals, violin, electric bass guitar, cello, keyboard, percussion, electric lead guitar, acoustic guitar, acoustic lead guitar, pedal banjo, fiddle and pedal steel guitar.   Overall sound= JOY, SPIRIT and LIVELINESS.  
"Still my little child", track two on this album, had the biggest impact on me, personally.   I've had some unfortunate deaths in my family and this song on aging allowed me to better-cope with their losses; I even got a little teary-eyed during parts, I'll admit.   The powerful quotes from "Still my little child" that hit me the hardest are as follows:   "The Flower has faded away.   You can never grow so old.   Even down to your grey hairs.   I'm the one who always cares.   There's life beyond this world.   I'm the one that saves your soul".   WOW!!!
The entire record is touching from beginning to end and can even be life-changing, I believe.   A highly inspirational album that will hopefully touch people from all walks of life.   The MESSAGE is heard and the pastor has said his peace and now it is your turn to follow your own call.  
For more on Michael Milton and his newest creation, SKOPE out www.mikemilton.org and/or www.musicformissions.com.  
Review  By: Jimmy Rae
[Rating: 4.5/5]