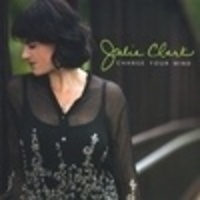 Julie Clark is not just taking the GLBT world by storm, but also the entire music world is being introduced to a fine musician with a vision.   Clark puts it all on the table on Change Your Mind with no holding back.   Sing what you feel, but also feel what you sing is the whole premise here on this record.  
Clark is categorized as a folk-pop artist, but I would also add an element to country as well.   "Growin' Up, for instance, has that hangin' on the back porch, simplistic feel about it while incorporating a deep and sincere sophistication.   Just from what I heard on this album, I think Julie Clark and her band could be a fantastic country group if they wanted to be.   I look at Sugarland and I could see Julie Clark and her band doing something similar to that style.  
I noticed right away when listening to Change Your Mind that Clark's voice is just simply phenomenal.   It is a very nice-sounding voice in which the pitch and melody are just right on.   She is quite soulful and also sensual at times in her vocal approach.   Also worth noting that the back-up vocals along with the overall recording sound is just great.   Everything seems to gel together on this record; at least my mind is made up.  
On "I'd Do 'Em All (if I could)", the song offers everything from an overall cool vibe and care-free sensation to being funny and even sexual.   While Clark is laughing at different moments of the song, she mentions "Rev my engine, pop the hood", which I thought was a very cool reference.   At the end of the track, she goes a little further south by stating "Every Position Possible" referring to the title.   Whhooooaaaaa, Heeellloooooo!!   But, that, my friends, is what makes this record so special and what makes Clark the distinct artist she is by pushing envelops.  
Going off of track five, "If it Weren't for That", Clark sings about a weight problem she had as a kid growing up.   Touching stories and personal convictions are what make up the guts of this album.   Julie Clark seems to have the IT factor when it comes to making music.   I see many barriers being broken along the way and maybe even some amended, if Julie Clark has anything to say about it.    
For more on this provocative and innovative artist, SKOPE out www.julieclark.net.  
By Jimmy Rae
[Rating: 4.5/5]