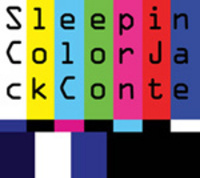 Conte has become an Internet sensation on YouTube with over a million views in just a short, few months.   It is due in big part to his "VideoSongs", which incorporates a music video and live performance sensation for the viewer.   So, someone enjoying Jack Conte on YouTube can get the best of both worlds from the video.   Definitely a nice mix and makes sense why Conte is experiencing so much online hype–because of a revolutionary idea.
Speaking of being a pioneer, Conte is definitely doing just that on Sleep in Color.   First thing I heard when I slipped this compact disc in the stereo was just a Carnival of Sounds.   These sounds were just coming from everywhere and just so unorthodox in the way that they were incorporated into the songs.   Track One, "Hollywood Endings", displays an off-beat drum rhythm that just sounded so odd yet so interesting.   I even picked up on a similar vocal comparison to lead singer of Incubus, Brandon Boyd.  
The whole record was just so wild, out there, strange and different all wrapped into an extremely original piece of work.   You get weird vibes and then on "Like a Match" you hear Jack Conte doing some very high-pitched singing during the chorus line.   On the same song, there is also a very spacy feel to the song, but not near as trippy as the great Dark Side of the Moon though!  
My favorite song on the album, hands down, is "Now that's Scared".   The beat, the pitch, the feel and the overall vibe was all right on for me.   And you get to hear Conte hold a note for long stretches through the song–very impressive.   Jack Conte's vocal range is pretty good and I have to say the record was produced in a very professional manner.   Sleep in Color has a very crisp and clear recording sound to it, so hat's off to Conte who came through on all aspects of this record.
Overall, I wasn't digging the overall sound and feel of this one but that's okay.   I'm just one person and there are many other people other that will love this record–I'm sure of it.   I'm very certain of this just because of how original the material is and how well-polished the recording is done.   Sleep in Color is simply a Carnival of Sounds that offers fans beyond old-school instruments such as: 1940s accordion, 1890s upright piano, '72 Wurlitzer, '74 Hammond organ, glockenspiel, drums and an assortment of synths and analog guitar pedals.   Welcome to world of Jack Conte and his newest creation!
For more on Jack Conte and Sleep in Color, SKOPE out www.myspace.com/JackConte and www.youtube.com/JackConteMusic.  
By Jimmy Rae
[Rating: 3/5]