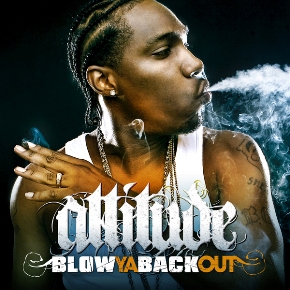 They say it's officially a recession; but if you've been to your local gentlemen's club lately as  this track  comes on, you'd beg to differ…
The pen behind "Promiscuous Girl" is back with his blunt ode to seduction…please groove with caution.
"Blow Ya Back Out":
Born Timothy Lovell Clayton on December 20, 1978 in Brighton, Alabama; Attitude enters the rap game with his solo LP in a unique position — before he even picked up the mic, his songs have already sold millions of records.
Known as a go-to "ghostwriter" and songwriter since 2005, Attitude penned the hit Promiscuous Girl for Nelly Furtado & Timbaland.   "As far as making up songs I always did that, but the opportunity to become labeled as a writer came when I was messing with Timbaland, and he got me to write Promiscuous Girl and that's how it got started," explains Attitude.   The two were introduced by artist Bubba Sparxxx when he and Attitdude were signed to the same production company, and after Attitude's major songwriting success the first time out he hit the ground running and has since written for I wrote for Timbaland, Keri Hilson, Rich Boy, Jesse Milay, the Dey, Chinky Brown, I-15, and many others.