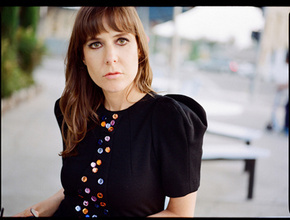 Eleni Mandell is a supremely talented and critically acclaimed songwriter with a singular gift for writing wry, literate songs that synthesize jazz, country, folk, blues, rock and pop. Artificial Fire builds on her 2007 breakthrough, Miracle of Five, adding a more direct, full-band sound to Mandell's sharp-edged tales of romance, lust and love.
Based in Los Angeles, Mandell is a leading light in the city's Silver Lake music scene, and is part of The Living Sisters, a local "supergroup" also featuring Becky Stark (Lavender Diamond) and Inara George (The Bird and the Bee). All the songs on Artificial Fire were written by Mandell, and arranged, recorded and produced with her longtime band (Drake on guitar, Ryan Feves on bass and Kevin Fitzgerald on drums.), allowing the group's cohesiveness and musical acumen to shape the tracks while Mandell's articulate lyrics hold centerstage.
"Artificial Fire" MP3:
"Right Side" Audio Stream:
Eleni Mandell will be performing live in Los Angeles this month, and will tour in March. Don't miss her live show!
January 16         Los Angeles                 Hotel Café (8 PM)    
January 30         Los Angeles                 Hotel Café (8 PM)
March 5               New York City           Joe's Pub
March 19             San Francisco           Cafe Du Nord
March 22             Seattle, WA                 Triple Door
March 26             Chicago, IL                   Schuba's
March 27             Minneapolis, MN     The Cedar
March 28             Kansas City, MO       Davey's Uptown