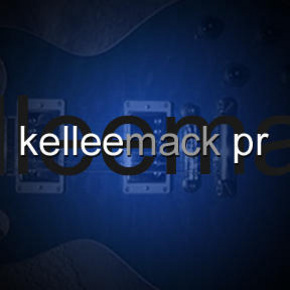 As many of you know, Stoli loves to cover artists on a regular basis in this column. Sometimes though, I like to switch it up and feature some of the folks that keep the music indsutry buzzing from behind the scenes.
My next guest is Kelly MacGaunn from Kelleemack PR in Valley Village, CA. Kelly runs her own PR firm and has been supplying content for your favorite music outlets for years. Her clients range from  MxPx to Robin DiMaggion to Two Loons For Tea. Check out what life is like from Kelly's angle.
Stoli: Please give a brief explanation of what your company kelleemack pr does within the music industry?
Kelly MacGaunn: kelleemack pr is a full service public relations and marketing firm.   From national campaigns to new media to college programs, clients can choose one option, mix and match, or combine them all to meet their specific PR needs. Though we specialize in music campaigns, we have expertise in fashion, non-profit, events, and music merchandising, and can accommodate you with a precise proposal geared directly to your company or product.   Some of the packages we offer include: National Album/EP Campaign, Tour Press, Morning TV Appearances, New Media (online, blogs, podcasts), College (print & TV), Specialty Individual Services (bio, press kit design, press releases and website design).
Stoli: What gave you the drive & ambition to pursue a career in the music industry?
Kelly MacGaunn: I've always loved music, though I didn't start off my college studies with the goal of working in the music industry.   I actually started off as a Kinesiology major in hopes of being an athletic trainer, but after some time and some social changes, I turned my focus to my love for music and concerts. That spurred the creation of an online music magazine fusing my other two loves, writing and photography.    
Stoli: Before starting your own PR firm, where did you get your start?
Kelly MacGaunn: On the PR side of things, my first internship was with Marketing Factory, Inc./Ink assisting on the Honda Civic Tours as well as some indie PR campaigns.   From there, I moved onto Cause Force, Inc. helping out with the 3-Day Breast Cancer Events in Toronto, Canada.   I was then hired part-time at Marketing Factory, which turned into a full-time gig after a couple months.
Stoli: As an entrepreneur how do you position your business to stand out from the competition?
Kelly MacGaunn: In all honesty, I do what I love.   If I didn't, I would be starting a new path.   Most of my clients come from referrals, so competition doesn't really play a large role in my business.   I stay true to my roots, and love the opportunity to share great music with new listeners.   As long as I am honest with the clients and am true to the writers I work with, I don't feel there is any need to make my company "stand out," as that has come naturally with hard work.
Stoli: Did you need to go to college or get a degree before you began your career in music?
Kelly MacGaunn: I was working on obtaining my BA in Journalism, while doing my online magazine.   A lot of writing comes from trial and error, and through my Journalism and PR classes I was able to cover different news stories – things that normally wouldn't interest me, but nevertheless enabled my writing to develop more and be a solid starting point to feel comfortable and confident in my writing.
Stoli: What drew you to working in the PR aspect of the business?
Kelly MacGaunn: As I mentioned before, I had started an online music magazine and through that had dealt with a lot of publicists and managers. Since I had decided to be a Journalism major at Cal State University Northridge, which offers PR courses within the Journalism BA program, it allowed me the flexibility to take PR classes along with a couple of photojournalism classes as electives.   I needed to interview two publicists for my first PR class, and I used one of the contacts I had made through my website, who worked at Epic.   From that interview, I was offered my first intern position at her new indie company, and from there I fell in love with PR and have been doing it ever since.
Stoli: When bands come to you for representation, how do you decide who you want to work with?
Kelly MacGaunn: The music obviously speaks for itself, but there's more to a campaign then just good music.   A lot of factors are brought to the table, such as tour dates, marketing plans, expectations, radio, etc.   We first and foremost want to make sure that the band/manager/label has the dedication to support the album or tour before discussing anything further.
Stoli: What traits do you feel are mandatory for someone who wants to work in music PR?
Kelly MacGaunn: A strong work ethic is a good foundation, combined with patience and determination.   Not everything is an easy sell, especially with the baby band, so having the above traits will point you in the right direction.   Plus, you need to think of your clients as partners — their success depends on your success and vice versa.   The best publicists are invested in their clients' work.
Stoli: What is one of the most exciting projects that you have worked on recently?
Kelly MacGaunn: Hmmm….I think every project has at least one exciting aspect to it.   One project I have worked the longest on is with a band called Monte Negro, who is based out of Los Angeles.   I worked with them for over two years as an unsigned artist before they recently inked a deal with Red/Epic Records.   I would like to think that the press we obtained for them helped solidify their presence within the media, in turn helping perk the ears of label reps.
Stoli: When a band or musician hire kelleemack pr, what kind of service & results can they expect?
Kelly MacGaunn: First and foremost, they can expect the utmost care and personal attention that they deserve as a client.   We are a small company and therefore we have time to really analyze the client we are working with, in order to enable us to be completely open to creative contributions to each campaign.
Stoli: When you are not working, what do you enjoy doing on your time off?
Kelly MacGaunn: I still love going to shows. I say still, because being in the industry you can get burnt out from the things that drew you to the industry to begin with.   I don't attend nearly as many shows as I use to as a fan, but I do try to go to see my favorite bands perform when my schedule permits.  
Stoli: If a band is interested in hiring kelleemack pr, how can they go about talking to you about that?
Kelly MacGaunn: They can either call me at the office, or email me at: info@kelleemackpr.com.
Stoli: Where would you like to see yourself and the music business in 2018?
Kelly MacGaunn: Though I am one to look ahead, 2018 seems so far away.  
Kelly MacGaunn
kelleemack@sbcglobal.net
818-506-7105
www.kelleemackpr.com
www.myspace.com/kelleemackpr