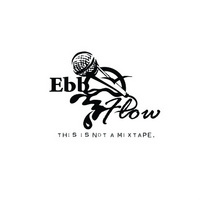 EBB and FLOW, which stands for "Every Beat Bangs" and "Fresh Lyrics on Wax" come through BIG on This is Not A Mixtape.   Made up of Demo Beatz, aka EBB, and Pyinfamous, aka FLOW; this rap duo brings a REAL hip-hop sound to the tables.   EBB being the producer and FLOW the emcee, the two seem to bring the best out of each other on this record.  
One great sound, but two completely different backgrounds in that Demo Beatz represents Beantown, MA and Pyinfamous hails from the Mighty Miss.   So, EBB is layin' down the beatz East-Coast style and FLOW is spittin' out the freshest lyrics from the dirty South.   When you put them together though, all that east-coast and south-coast jargon is scratched and that's what really makes this album so special.   I would even go so far as to say the Emcee/DJ tandem is as strong as the likes of DJ Jazzy Jeff and The Fresh Prince.   They have the skillz to pay the billz, at least I think so.  
The record offers an old-school vibe, but with a fresh, new sound.   Mad FLOW, HOT Tracks, Sick BEATZ and SLICK Rhymes=EBB and FLOW's This Is Not A Mixtape.   Finally, a hip-hop album that has some actual, real substance and let's not forget these guys are still Underground Artists.   I really don't think it will be long though before Demo and Pyinf are Above Ground and just blowin' up on the music scene.  
I picked up on FLOW's rhymin' style and voice right away, sounded a lot like Nas to me.   Lyrically, he also brings a lot of thought to the word selection throughout his rhymes similar to the great lyricist, Common.   But besides sounding similar to Nas and Common, FLOW and EBB are bringin' the heat with this one and crackin' it right out of the park.
Favorite line on the whole record came early on during the first cut titled: "Make Noise".   "Crazy, Bananas, Orangutan Status.   So, make noise like that when you hear this joint".   Get nuts and crazy over not just the first song, but the whole record because this is the real deal.   Also, on "Good Times" another great line is "Time flies when you're fly, but it crawls when you're not.   Really made me stop and think about that one for a sec, maybe bein' "Fly" isn't all what it's cracked out to be.  
GREAT ALBUM—– OLD-SCHOOL HIP MEETS NEW-SCHOOL-HOP SOUND—-EBB and FLOW: NEW FORCE TO BE RECKONED WITH IN RAP WORLD.   Check them out, especially if you're a fan of TRUE Hip-hop.   This Is Not a Mixtape and is definitely no joke; 100% 4 real.  
For more on EBB and FLOW and their latest album, SKOPE out: www.myspace.com/demoandinf.  
By Jimmy Rae
[Rating: 5/5]