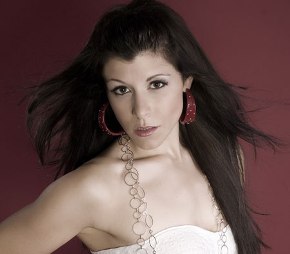 Boston's own Patrice Peris is taking the music world by storm with her hip-hop/Pop feel and soulful, R&B sound.   Add in some killer vocals and you have yourself a young singer on the verge of something big! Peris can be heard on many radio stations around the Boston area including #1 hit radio station, Kiss 108.  
Jimmy Rae had the chance to ask Patrice 10 questions and received 10 solid responses–Enjoy!
J. Rae:   Saw you sang the National Anthem at a Boston Bruins game and before that a WCF World Championship Fighting, what were those experiences like?
Patrice Peris: They were awesome!   It is always a great honor to sing the Nation's Anthem and I love the energy that you get from the crowd   at sporting events.   Everyone is always pumped up and ready for action, so it makes performing that much more exciting.
J. Rae:   And going off that, can I ask if you are a sports fan yourself then?
Patrice Peris: How can I not be? I'm in bean town where you feed off the mania of all the fans. We've got the Sox, Bruins, Celtics, Patriots, need I say more:)
J. Rae: People have compared both your style and vocal ability to the likes of Christina Aguilera, Beyonce Knowles, Fergie and Rhianna–pretty good company so how do you feel you stack up against these Pop divas?
Patrice Peris: I have to say, it feels fantastic to be measured up with such a fine list of pop divas. Each one of these woman has inspired the artist I've become. I've strived for the strength of Christina's vocals, the power of Beyonce and Fergie's shows and the super hot style of Rhianna, but I am a perfectionist who continues to raise the bar on every level, so that   each performance is better than the last. Someday I want to read the interview question, "How do you feel being "stacked up" against pop diva Patrice Peris?" :)
J. Rae:   I heard a lot of Christina Aguilera in your voice, is that on purpose or are you trying to reinvent a sound all of your own?
Patrice Peris: I love Christina's powerful vocals, but I definitely aim to create my own original sound. The great artists that I tend to be most influenced by are Alicia Keys, Fergie, Patti LaBelle and my idol Celion Dion.
J. Rae:   How long have you been singing and who or what have been your motivators?
Patrice Peris: I have been singing since I can remember!   One of the main motivators for me was Celine Dion.   I love that she has so much passion for her music and her voice and shows are incredible.
J. Rae:   Hip-Hop and Soul it is said your music has–how would you define your music?
Patrice Peris: I'd have to say my music is a combination of soulful vocals mixed with danceable hip hop. I want the listener to be moved in more ways than one.
J. Rae:   Any artists you'd love to collaborate with?
Patrice Peris: I love Rihanna's style and songs so it would be unbelievable to   team up   with her. I'd also love to   join forces with Alicia Keys, she writes remarkable songs and they all have such   great messages.
J. Rae:   What has been your best moment on stage to this point?
Patrice Peris: This is a tough one because there have been so many   memorable moments on stage. I love performing and I especially love how each show is unique. I have to say   my favorite song to perform is the Anthem because there is always such a great sense of unity among the crowd and it moves me. Another great show I'll never forget was when I performed for the Winter Special Olympics, we were all rock stars that night, it was a blast!
J. Rae:   What was the feeling like when you heard one of your own songs on the radio for the first time?
Patrice Peris: It felt pretty surreal to be listening to myself on the air, I was definitely   blown away.
J. Rae:   What's next for you?
Patrice Peris: Right now I am in heavy preparation to showcase myself to the major labels which will be taking place very soon. It has been a long and challenging journey but really rewarding. I am really looking forward to this chance to finally get in front of them and show them what I have to offer. I am going to continue to perform around the New England area and if the opportunity presents itself I would love to do a tour overseas. I love traveling so it would be a real thrill to get to see the world while doing what I love to do most. Last, I love every aspect of this business so I can't leave anything out! Right now I am working on my lastest masterpiece, I have no doubt it's my best one yet, you'll have to check it out! :) Lastly, Jimmy thank you so much for taking the time to interview me! I am a big fan of Skope so it is a real honor to be a featured artist in it!!
For more info on Patrice Peris, Skope out www.myspace.com/patriceperis and www.seepatrice.com