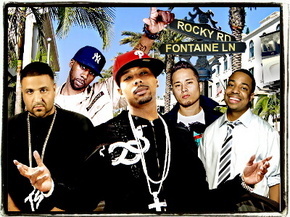 In a city where the murder rate has reached the highest in the nation, up-n-coming artist Rodney "Rocky Fontaine" Myers is determined to bring good music back to the city and that's exactly what this promising artist is doing with his new project "Entourage", hosted by Hip-Hop heavyweight DJ Khaled.
The Philadelphia rapper presents you a 30-track mixtape full of blockbuster joints including features with Gillie Da Kid, Maino, Jazmine Sullivan, Wiz Khalifa and Beanie Sigel.
"The concept of the mixtape is Entourage. Right now my life consists of late nights and early flights. Studio sessions with some of the biggest artists and shows all over the country. When I say my life is like Entourage… that's what it is. I'm living my dreams and it's only the first inning. That's why the mixtape is called Entourage: Season 1," Rocky Fontaine said.
"Best In The City" Feat Gillie Da Kid and Maino: