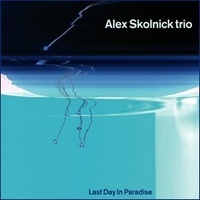 The former Testament metal master that that doubles one of the main guitar driving forces behind the Trans Siberian Orchestra, also finds time to lend his chops to his love of jazz.   Alex has bent the rules of versatility to new levels in his trio with Nathan Peck on bass, and Matt Zebroski on drums.   The combining of originals with the (much needed) working over of some rock classics, allows the listener to stay focused while paying attention to the individual notes, structured syncopation, and overall riffs.  
The Testament anthem Practice What You Preach is given the Latin treatment as Practica Lo Que Predicas.   Rush's Tom Sawyer takes on a new life with a new wave style rhythm punch, accented by great drumming courtesy of Matt Zebroski.   Ozzy's Revelation (Mother Earth) is given a somewhat Caribbean vibe.   Western Sabbath Stomp written by Alex and Matt pays homage to the classic metal/rock gang by blending Sabbath Bill Ward style drumming with some Tony Iommi licks including some added interesting slide guitar work.  
The originals have a fresh flavor.   The Lizard is a smooth, clean, straight up jazz piece.   Channel 4 has the cool vibe of the recent free form jazz movement, but with the feel of the 40's-50's jazz greats (sounds like I'm describing a wine).   Mercury Retrograde features some deep rhythm section grooving, while the title song Last Day In Paradise is more of a moody piece with a Venture's style vibe.  
Instrumental and jazz CD's are the biggest challenge to review.   Most of the instrumentals that find their way into my mailbox, have the best musical lineups, but the discs are laden with cumbersome speed axe playing, with the drums and bass trying to keep up, and no separation of song style and texture.   AST has found a formula to make it work in a fun and enjoyable fashion.   Give them a listen and check their site for tours in as Willard Scott puts it "In your neck of the woods".   You will be rewarded!  
Review By RME
[Rating: 4/5]