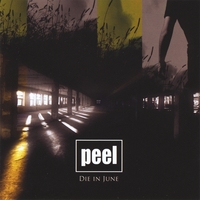 First off, I have to say I was taken back by the album title because my birthday is in June.   Definitely wasn't a good feeling, but who knows why they named it that.   I'm sure there's a perfect explanation behind the depressing title and I'm certain it's not revolved around a birthday in June.   At least, I hope not!…ha  
Peel is a Norwegian group made up of five members: Pim (lead vocals/guitar), Bertzkii (drums), Dan (guitar/vocals), Bjorn (guitars/keyboards) and Frikk (bass/vocals).   Die in June is a 4-Song EP that offers a lot of variety in musical tastes.   Everything from heavy metal to alternative to progressive rock to modern rock and even some Goth-rock is offered on this record.   The Goth-rock feel comes by way of Pim's darker lyrics and Peel's darker melodies on the album.   Makes sense that these elements would be included because Norway has extremely harsh/cold winters. In turn, those extreme weather conditions are turned into cold/dark notes and melodies within the songs.   It's all making sense to me now!…a-ha
Now, don't think the record is all about gloominess because it most certainly isn't.   Peel also brings an element of Pop sensation that could potentially be on a regular, poppy radio station.   Not sure if the band would want that or not, but some of the songs definitely could be played by a push of a button or turn of a dial if marketed just right.   Never know?
Add in some cool Electronica sound effect elements and you have yourself an eclectic Alt-Rock bunch from the land of Scandinavia.   Peel seems to be quite innovative on this recording by incorporating so many different elements and styles of music.   Maybe this Norwegian band will take the U.S. by storm next.   Just as long as it's not in June!…ha
For more on Peel and Die in June, Skope out www.peeltheband.com and www.peelgrimrecords.com.  
Review By: Jimmy Rae
[Rating: 3/5]