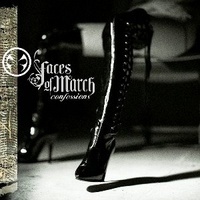 When checking out the album cover, I couldn't help but notice the very dark and gothic appeal.   You see a jet-black woman's boot that could be worn either by a dominatrix or Cat-Woman, take your pick.   The whole background displays very dark/black colors giving a sense of gloominess.   And on the back side of the album, you see all four members of Faces of March displaying no bright colors as well–just blackness and darkness screaming out.   Seeing this made me think what the album might sound like, BUT my friends I have a confession of my own–never judge a record by its cover.   I learned this a long time ago with books and the same rules apply here.   The real art and magic is on the inside, not outside and that definitely applies here.
Faces of March hails from Miami and is made up of Gia on vocals, Joe on guitars, Marcelo on bass and Eli on drums.   Right away I could tell how fine-tuned this band was and the chemistry was right on.   All four members gel together like peanut butter and jelly on Confessions; vocal, guitar, bass and drum lines all in unison and all as one full circle.  
Couldn't help but notice the similarities with a group you may have heard of, Evanescence.   The Miami foursome brings a rock beat with heavy and dark chords, but also brings to the table a very powerful and sincere sound.   Gia's vocal abilities are quite impressive on this album and she seems to belt it all out of her on this one.   In a sense, she is releasing herself and all of her vulnerabilities through way of her singing.   Power, emotion and sincerity all heavily felt by Gia and her band.   Mix all of this together with some Pop and you get an overall, incredible sound from Faces of March.
One of Gia's finest vocal performances comes by way of "Too Late" where all of these emotions just seem to come together during one hell of a song.   The way she seems to balance the song through her voice and vocal capabilities while evoking the emotions that go along with it is simply an amazing sound.   I was blown away by that aspect more so than anything else.   This band freakin' rocks hard and knows how to make it all work as 1.  
For more on Faces of March and their new album, Confessions, Skope out www.facesofmarch.com and www.myspace.com/facesofmarch.   This group is 4 real and that is because they are true to their music and true to themselves.   I feel this group can go very far in the music world because they seem to have a lot to offer.   Be on the lookout for Faces of March!
Review By: Jimmy Rae
[Rating: 4.5/5]