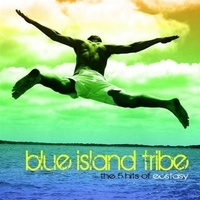 First thing I noticed was the man jumping into the bright, blue ocean on the front cover.   On the flip-side: the silhouette of the woman sitting beside the water with waves crashing in and rays from the glaring sun beaming down.   Considering I'm a big-time summer and tropical person, I automatically picked up on this theme.   You get a very care-free, peaceful and tranquil feeling right away just from the front and back covers alone.   Made me wish I was an exotic island somewhere instead of messing with freezing rain, ice and snow.
After admiring the cover art and the fact that I wasn't going to be on an island anytime soon, I realized that there was an album to hear.   They call themselves Blue Island Tribe and you would think the members are more than likely from some tropical place–WROOONG!!   The band is actually from Iowa, go figure, and yes they play reggae-rock music, which makes them incredibly original and authentic right from the start.   And you know what, that's very cool and very OK with me because music is music no matter what part of the world you're in.   Music comes from the heart, so if you're from Iowa but truly love reggae-rock music then just go with it man!  
Just five songs on The 5 Hits of Ecstasy, but Blue Island Tribe pack a powerful punch of island flavor on this record.   Track one, "Down", starts out with that fun in the sun vibe while rockin' out to the chorus line of: "IN THE MORNING, IN THE EVENING, EVEN IN THE AFTERNOON.   ALL I EVER WANNA DO IS JUST GET DOWN WITH YOU".   YAHHH MONN!!   As a former alto sax player, I simply loved hearing the soothing sounds of the saxophone on "ecstasy".   "March on" is a terrific song made up of a jumpin' beat, rock-hard riff and a sweet guitar solo.   And when I found out that it was written as a tribute to our brave soldiers, it made the song even more worth while.   The line, "Can You Feel it in Your Soul", says it all and so much more—March On!
For more on the six-person Tribe from Iowa, Skope out www.blueislandtribe.com and www.myspace.com/blueislandtribe.   If you like a little rock and a little reggae, then you just might like this EP.   Also, if you're a fan of Sublime then you should definitely take a listen because there are many similarities here.
Review By Jimmy Rae
[Rating: 4/5]