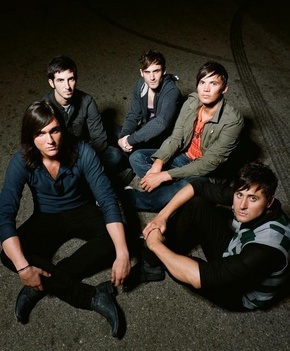 This next band would like us to believe that they are just a regular band that just wants to create good music. While that is true, The Urgency also have a  growing fan base of loyalists and a major deal with SRP/Mercury. Their sound is contagious and their lead guitar, Ian, was cool enough to let Skope know what is so urgent about The Urgency!
Stoli: What do you miss most about those days back in VT before the fame?
Ian: what fame?
Stoli: How long would you say that it took before fans began really paying attention to your band?
Ian: Things didn't really take off for us until we held the dj's at Rebel Radio 103.6 FM hostage, and forced them to play our music.
Stoli: How did you know that Tyler Gurwicz, a musical theater major, would be a perfect lead for the band?
Ian: He's the man, and he's not a musical theatre major. He took one semester before he dropped out to join the band and play some original music.
Stoli: Why did you decide to name your band The Urgency?
Ian: our music is very urgent. In the energy of the band and the lyrical content.
Stoli: Please name one song and one life experience that led to the creation of that song?
Ian: Rooftops. Getting lucky in Brooklyn.
The Urgency – "Fingertips"
[youtube IN-cE4AanRk nolink]
Stoli: How long did it take to shop your demo before getting a deal at SRP/Mercury Records?
Ian: This long.
Stoli: Now that you are signed to a major is there alot more pressure to create hits?
Ian: No.
Stoli: When you are out at night would you say the woman pursue alot harder now that you are signed & have a few hits?
Ian: No.
Stoli: How does it feel to be on the road so much and how do you keep the band on the same level?
Ian: It feels like warm apple pie.   if someone beats a level we all level-up. teamwork.
Stoli: How much would you say that the Internet helps keeping fans in the loop & gathering new fans?
Ian: It helps a lot.   The internet is a good way to keep in touch with friends and fans we meet on tour.
Stoli: When playing live what do you like to do to connect with adoring fans in the crowd?
Ian: We just vibe out, every show is different.   We keep it real.  
Stoli: You have alot of European dates in early 2009, do you perform any differently overseas then in the US?
Ian: We perform with an accent overseas.
Stoli: Thank you The Urgency!