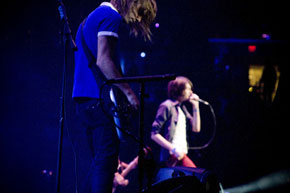 The Academy Is opened the Jingle Ball this Saturday at the Bank Atlantic Center in Sunrise, FL. It was a lively performance and the band demonstrated their on-stage talents in the short four song set.
Lead singer William Becket's voice soared over the arena in his lovelorn punk rock ballads. Their last song was "About A Girl". Before he left the stage he confessed he has a crush on Rihanna who would play later.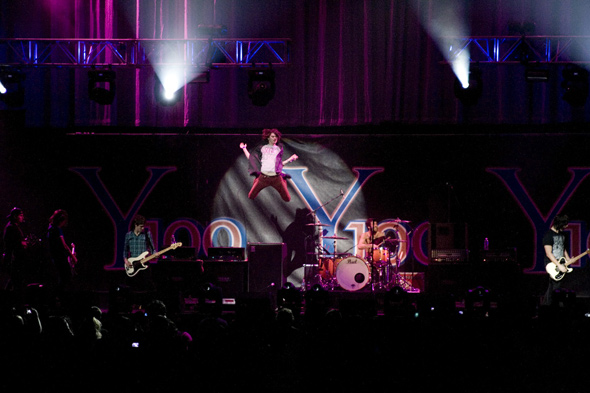 Shontelle was on next and she brought her smooth, honey-soaked voice. She was backed by an energetic announcer DJ who spiked his beats with the occasional cliché of the foghorn and siren. What's up with that — definitely one of the cheesiest effects used by DJs?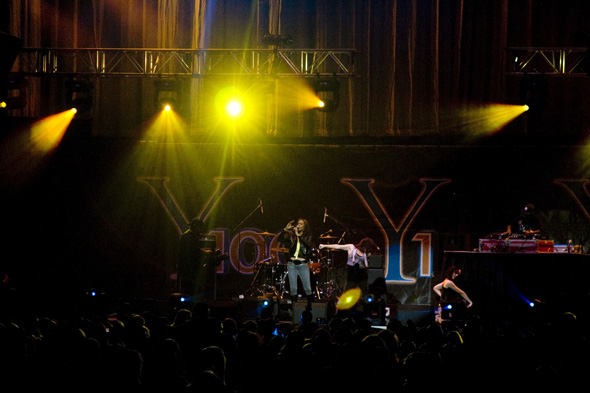 There were two dancers on stage with her and they danced in sync to the up-tempo island RnB. Shontelle showed us her Barbados tummy roll as she cruised into her hit song "Roll It". She ended her set with a heartfelt performance of "T-Shirt" which was met with sing alongs from the crowd.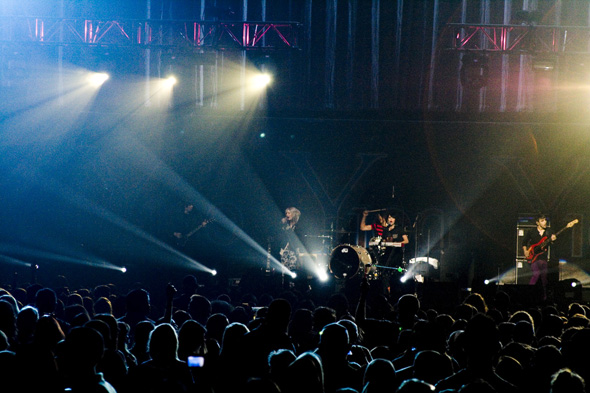 The Veronicas, made up of identical twin sisters Lisa and Jess Origliasso, opened with their hit single "Untouched". Their performance was a bit lackluster at times and it seemed that they weren't singing directly into the mic as they jumped around stage — possibly a consequence of their inexperience. Jess Origliasso's usually jet black hair was dyed blond and it was all puffy and crazy. At times they conjured up images of another sister rock band, Heart — they have the same power. They are loud and energetic female rockers and they have voices that can fill an arena. Nevertheless, their last two songs were somewhat bland and the vocals were cutting out a bit. Instrumentally their band was on point and brought some good guitar riffs.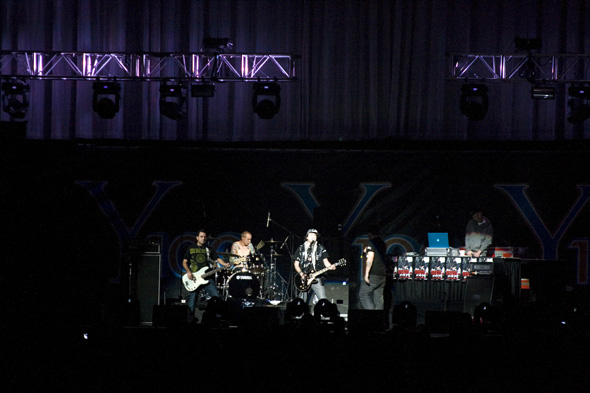 Kevin Rudolph reminds me of Kid Rock — a white guy with pop rock vibe who collaborates with rappers. His songs are simple – simple lyrics and typical generic rock vocals merged with some rap flows. He has a a decent falsetto but the lyrics really ground the music like on his hit "Let It Rock" he sings "Because when I arrive / I, I bring the fire / Make you come alive /I can take you higher". It's easy listening and non challenging stuff. He was backed by a full band which added dimension to the sound but the heavily cliché Rudolph served as a distraction.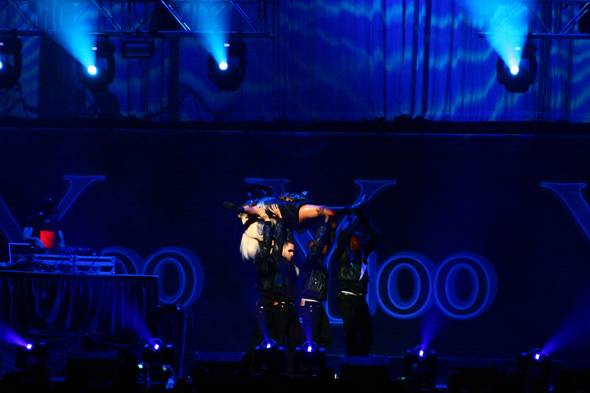 Lady Gaga's image is very European electronica, she looks like a techno star from Germany. She has been able to capture the attention of fans with her outrageous ensembles. Unfortunately her musical skills didn't live up to the hype. On her first song she failed to project her voice — and even when the volume was delivered it was clear she lacks vocal prowess. Male dancers propped her up and they did some routines that looked like a low budget Madonna performance. The jumbo screens on either side of he stage weren't showing her performance but instead showed clips of her videos and other psychedelic effects. She ended with her most well known song "Let's Dance".
Next on was Jesse McCartney. He is an RnB boy band type — a Justin Timberlake wanna be. Strange introduction with the Verve's "Bittersweet Symphony". He exuded an nonthreatening male energy and the swoon from the teenage crowd confirmed his heart throb status. My opinion is he should be only allowed to perform at Bat Mitzvahs for hormonal teenage girls. He professed his love in his sweet and sappy lyrics.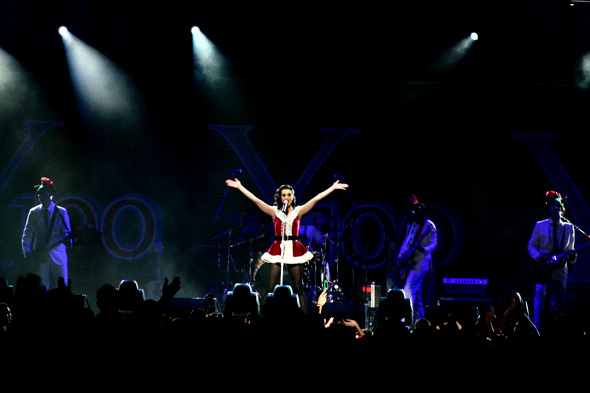 Katy Perry was dressed in a cute Santa outfit and was vivacious and bubbly as she preformed her light pop songs. She was running and bouncing across stage. She admitted she never played on front of this many people. Despite her inexperience with a large arena she was able to deliver a strong performance — she projected her beautiful voice. She slowed things down for an intimate acoustic rendition of "Thinking Of You". She closed with her hit "Kissed A Girl" which she segued into by saying "are you ready to have some fun with this one". Perry gave the best performance of the evening in my opinion and I look forward to seeing her at Fort Lauderdale in April.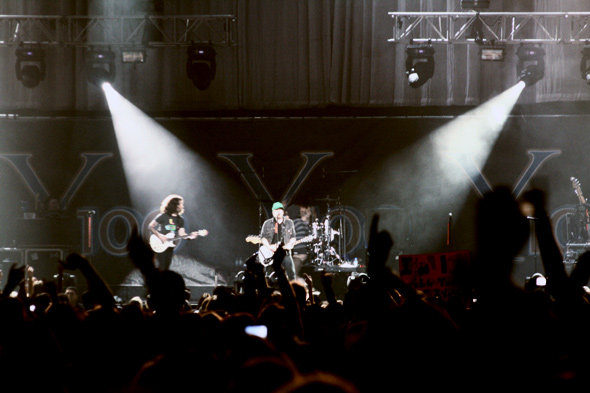 Fall Out Boy came out to thunderous applause. The emo wonderboys performed their biggest hits to an ecstatic crowd. They had a good stage presence and their flashing blue lighted and synced guitars were an awesome visual. What I found odd is how Pete Wentz is the spokesman for the band — okay so he writes the songs but he is the bassist. The bassist is usually the guy who doesn't show up to rehearsals and is locked the throes of some irresponsible self destruction or at least is sort of asocial. But here lead singer Patrick Stump takes a back seat to Wentz. During their set Wentz addressed the crowd between songs while Stump stepped out of the spotlight. It's pathetic that his celebrity status and good looks make him the band's spokesperson instead of Stump. Wentz says they were watching the movie Almost Famous and he recalls a line from the movie that "rock music is over" (Philip Seymour Hoffman says that as Lester Bangs, outspoken rock critic). He announced defiantly "I don't care". The way in which they surrender so effortlessly to pop celebrity I believe him.
Words: Shaun Flagg
Photos: Norrel Blair